We invited American Baptists from across the country to share their Ministry Stories with the American Baptist Family and with the world! This is a part of the Transformed by the Spirit initiative. Want to share your story?  Written and Video submissions are invited at: americanbaptist@gmail.com. View the full list of Ministry Story Opportunity Submissions.
"The Rock" A Christian Church reaches out in Las Vegas, Nevada
Transformed by the Spirit – Ministry Story Opportunity
"The Rock" A Christian Church reaches out in Las Vegas, Nevada
"The Rock" is a member of the American Baptist Churches of Los Angeles, Southwest & Hawaii.

Nearly ten years ago, as we prepared to plant a new church in Las Vegas, our launch team was reading a book called "The Church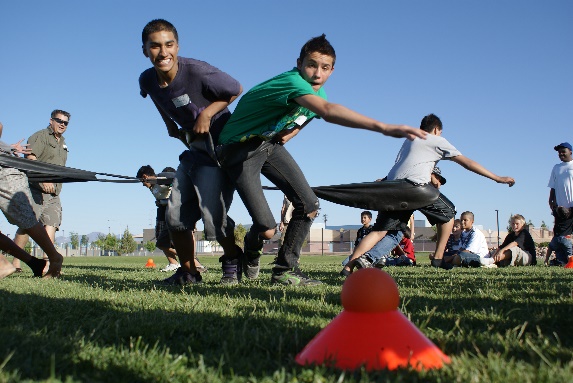 of Irresistible Influence" by Robert Lewis. We were challenged by Lewis to think outside the box in ways to serve and express love in tangible ways to our community.
1. We started by giving free water at a nearby park which is a hot commodity in the desert heat.
2. We partnered with "The Gift of Lights" at Christmastime by providing hot chocolate and live Christmas carols as people drove by each display.
3. We also provided free shuttle rides from auxiliary parking for the annual Renaissance Faire.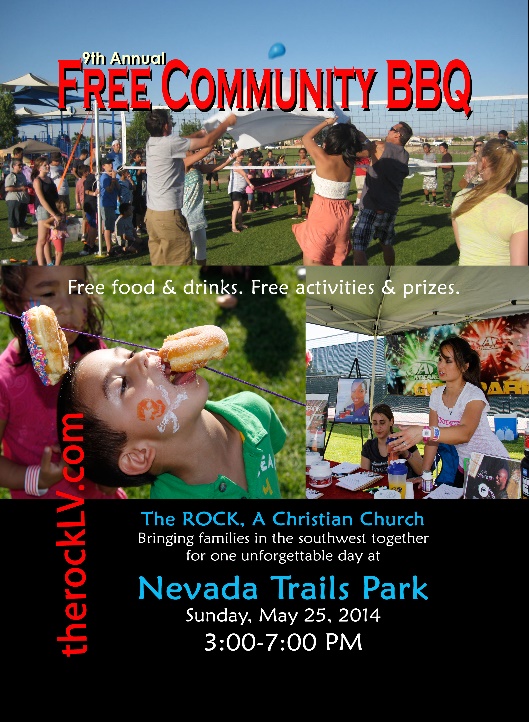 After evaluating each of these ministry opportunities, we realized that we were not making the kind of significant impact on our community that we desired. We've heard of churches hosting block parties and worship services at community parks. So we asked ourselves, what can we do in a severe time of national recession that would impact the communities of the southwest area of Las Vegas? Our lead pastor came up with a new idea by merging two former ministry opportunities: Block parties and worship services at the park. What emerged was a new idea C@TP: "Church @ the Park."
The idea was to create "One Unforgettable Day."
Las Vegas is not commonly known as family friendly that is why we put a lot of emphasis on developing a FREE family event. Our goal was to make sure that in a deep recession, everything was free. We partnered with local businesses to provide food, funding, and free giveaways. A local butcher shop has partnered with us for the past 9 years providing quality hamburgers & beef hot dogs. A local bakery provided all the buns, Sam's club provided the condiments and paper and plastic goods, local grocery stores gave us gift cards to purchase needed produce, Advocare set‐up a booth and gave away free samples, a dental group also set‐up a booth and gave away hygiene kits, metro police gave demonstrations, and the Red Cross came so people could donate blood.
By partnering with local businesses, we developed healthy relationships and partnerships only to realize that they were also looking for ways to impact their community.
We designed professionally printed full color fliers and stopped at each local business to ask if they would partner with us by allowing us to leave them in their break rooms or at the front counters. Some grocery stores went as far as to help us by putting fliers in each grocery bag. By visiting each local business within 5 square miles, we were able to connect and tell people about our ministry opportunity and even share the Gospel. Many times business owners signed up to partner with us for the next year.
We provided free food and our church members would make homemade sides and desserts. Each family in the church also committed to bring 2 family size chips and 2 qty. 24‐pak of brand name soda.  We taught our people to roll out the "red carpet." We expected our people to give our very best.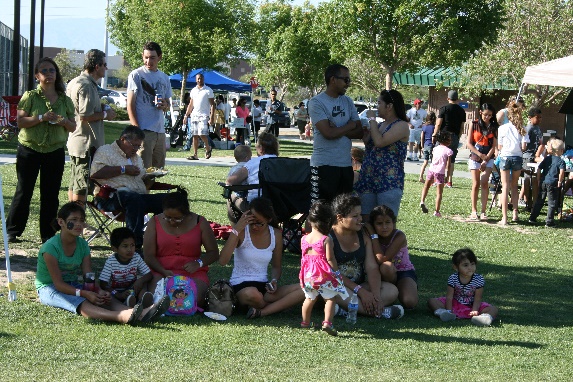 The day was designed around children and family activities. Our children's team developed relay games for the smaller children. There was also a face painting booth. Our youth teams designed creative games like 4‐way tug‐o‐war, water balloon launching, and water balloon volleyball for youth and adults.  Of course we had the traditional flag football, soccer, volleyball and basketball.  Our church members were so excited that they expanded our vision and developed a "Prayer Tent" where anyone can come for prayer and a word of encouragement.
At first this concept wasn't easy to sell because many had their own preconceived notions. When we first informed our congregation about "Church @ the Park" the questions raised were…
• What kind of songs will we sing?
• Will we collect an offering?
• Will there be a message or sermon?
We had to reform our thinking. We had to teach our church that unbelievers won't necessary like our music that's why our serving will be our song. We don't take an offering or donations from people because we wanted everything to literally be free. People don't like it when you give something free and force them to hear a message that's why we desired to be the message of love by touching lives. We  had to teach our people that we will not sell Jesus Christ nor will we promote and recruit people to our church. Jesus doesn't need to be sold like a commodity nor do we need to sell the church: The power of God's love through God's people is simply contagious. Our goal was to love and serve our community in an irresistible way. The most difficult change was that we sacrificed meeting together for our traditional worship service. Yes, you heard me right. We took a huge risk and gave our people Sunday morning off to prepare to roll out the "red carpet" and set‐up to be prepared to receive our guests.
Every year our community and local business expect this community event annually. The following are results of "Church @ the Park…"
• Trust and strengthened relationships with local businesses and community.
• Some visited our church weeks and months later…And several surrendered their lives to Christ.
• People were loved on, cared for, and prayed over.
• The Rock A Christian Church represented Christ's love to its community.
• Our own people's lives changed by loving our community without expecting something in return. Our understanding of worship has expanded into a life of worship beyond lyrics and music. And we learned that there is immense joy in serving others in the name of Christ Jesus.
Over 700 people on an average have attended our Church @ the Park annually.
Our desire is to share with you what the Holy Spirit has revealed to us. This may not even be a new idea but "Church @ the Park" has transformed us as the Body of Christ and in turn it has transformed our community. We pray that this ministry story opportunity will be a blessing to those who took the time to read it. Thank you for permitting us to share God's movement here in Las Vegas, Nevada.