We invited American Baptists from across the country to share their Ministry Stories with the American Baptist Family and with the world! This is a part of the Transformed by the Spirit initiative. Want to share your story?  Written and Video submissions are invited at: americanbaptist@gmail.com. View the full list of Ministry Story Opportunity Submissions.
Diaper Depot
Transformed by the Spirit – Ministry Story Opportunity
FBC Scottsbluff, Nebraska
In 2012, we at Scottsbluff First Baptist Church were blessed with training through the Missional Church Learning Experience from Rev. Glynis LaBarre. After much prayer, thought and hard work came the Diaper Depot, We knew that one item that wasn't available through any type of assistance for young parents, parents in need, foster parents, etc, was diapers. We also learned that many parents were being forced to choose between diapers and food for their children. So with much preparation and initial funding through the ABC Home Mission Society the work began. Our goal was "Getting to the bottom of things and changing the Valley one diaper at a time!" And with Jesus as our guide we feel that is what we are doing.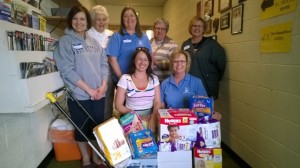 Every fourth Saturday of each month we have a free diaper distribution day at the church from 9-11am. There are no questions asked, we simply hand out diapers in the name of Jesus Christ and with His love. The ministry has grown into such an outreach in the community that we have been blessed with many other items to distribute. Clothing, wipes, baby food and formula, general food items (and now even adult diapers) have been donated to give to those who have the need, We also provide emergency supplies of diapers during the month as needed and through referrals.
Through this outreach we have been able to from relationships with other organizations that we may not have worked with previously. These folks have come to us and through these opportunities we have been able to share what we do and why we do it with so many from the secular community that we otherwise may not have been able to. We work with local service groups; the local school district, our domestic violence center, the Indian Center, the hospital in Scottsbluff and many more. One major blessing is the fact that since we are a Christ-Centered ministry and take no government money we can share whatever we want whenever we want to with no worry of backlash. In other words, Jesus can be proclaimed through a simple pack of diapers! Praise Him!!! All of our funding comes from our church members, other local churches, foundations, local businesses, individuals, the ABCUSA Matthew 25 grant and even a one-time grant from our local United Way!
Our relationship with other churches and ministries has also been a tremendous blessing. We have partnered with the Gideons, MOPS and Teen MOPS, a local ministry called The Potter's Wheel, several local churches as well as holding an outreach Diaper Depot in a local mission called The Jeremiah House in a low income neighborhood in Scottsbluff. This ministry alone has helped bring churches together in a powerful way for the same purpose as Matthew 25 has called us to do, serving those in need with the ultimate goal of opening doors to share the Gospel of Jesus Christ!
The greatest part of this whole ministry has been the relationships that have been formed. Many close friendships have been forged through the Diaper Depot. We have been blessed to come to know people we never would have known or met before this. Folks have walked in the front door of the church who never would have before. We feel we have been blessed as much or more than the ones we are serving by forming these relationships. Some have begun attending church, some have sent their children to Bible School, many have spent time in prayer and fellowship with us and many Christ-Centered friendships have begun. But most important. we are doing our best to build God's Kingdom, not ours, and that is what any ministry should be about!  All of this through a simple bag of diapers given in Jesus' Name.