We invited American Baptists from across the country to share their Ministry Stories with the American Baptist Family and with the world! This is a part of the Transformed by the Spirit initiative. Want to share your story?  Written and Video submissions are invited at: americanbaptist@gmail.com. View the full list of Ministry Story Opportunity Submissions.
 "Congregation of the Covenants"
Transformed by the Spirit – Ministry Story Opportunity
An Out of the Box ministry in Greater Indianapolis
We often sing " the church is not a building . . . the church is the people."  The Congregation of the Covenants is a house church that's been part of ABCGI for over 40 years.   We're patterned after New Testament churches that met in homes.  Various members take turns hosting and leading worship.  Sometimes we've worshipped in nursing homes, hospital rooms, a TV station, club house, tattoo parlor, hair salon, senior retirement community, or outdoors — so persons who normally weren't with us could be a part of worship.  Sometimes only three gather while other times we're over 20.  Having enough space can be a challenge — but sitting on the floor helps.  We have all ages and often have a baby to play Jesus for our Christmas pageant — like this past year.  Since we don't have a church building or sign, we personally invite people to worship.  We stay updated with prayer concerns and the place to meet with weekly emails.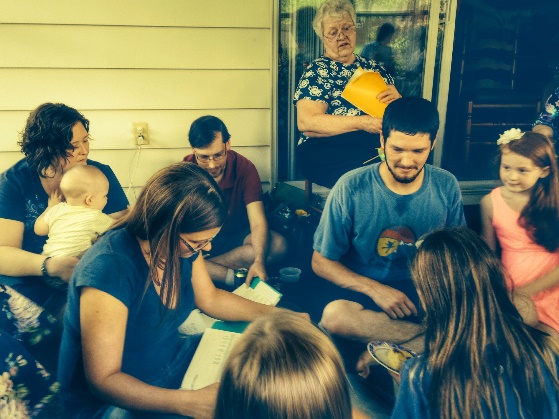 Our offerings support mission and ministries of ABC-USA and our region.  In addition, we support ministries like Habitat for Humanity, the Church Federation and Heifer International.   We seek to partner with others who work for the common good.  We have no building expenses or paid staff.  We are blessed to have a pastor who is able to volunteer her time just like the rest of us.  We make decisions by consensus.  Everyone has authority to take $25 from the deacon's fund to meet a need and share the story the next Sunday.
Our members have various passions for ministry.  Madonna helps the Burmese refugees in her neighborhood.  Lora knits sweaters to give to children who come to the Northwood Christian Food Pantry.  Josh serves as an advocate for a young man with disabilities. Roberta volunteers with hospice and makes sympathy cards each week to send to bereaved families.   Jean has a passion for visiting the sick and shut-ins. Hearing the Longkumers share about their work in Nagaland has inspired 16 yo. Corene to go on a FAME mission trip this summer.
This year, we are excited about a new ministry.  We watched a video about Henry who was very quiet and withdrawn with dementia.  However, when he listened to the music he loved with an iPod and headphones, his face lit up, he sang, and engaged in conversation about his life and his joy of music.  Through music, he was restored to himself for a while. When asked, "What does music do to you?" Henry said, "The Lord came to me and made me Holy.  He gave me these sounds."  We are partnering with MusicandMemory.org to start programs in centers that care for persons with dementia.  We are collecting gently used iPods and have designated funds to start a music and memory program. Could we invite attendees to the Summit to bring iPods they'd like to donate?
We hope our house church encourages congregations to think "outside the box" as we serve as the Body of Christ.  Perhaps our story will remind others how God can do wonders with just a few loaves and fish.  We don't have to be big in numbers to worship the Lord.  "For where two or three are gathered in my name, I am there among them."