The Mission Summit Conversations are the heart of the Mission Summit! The conversations present an open opportunity for anyone attending the Biennial Mission Summit to engage in meaningful dialogue about a topic of interest by self-selecting into a small group. Two rounds of Mission Summit Conversations will be held at the 2015 Biennial Mission Summit, coming up June 26-28 in Overland Park, Kansas.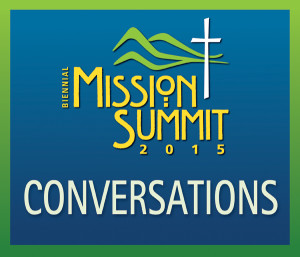 In addition to receiving suggestions of topics from the last round of Mission Summit Conversation evaluation forms, American Baptist organizations such as local churches, regions, national agencies, and seminaries were invited to suggest topics for discussion. These topics were posted in an online survey for all American Baptists to indicate their interests and preferences. Topics receiving the highest ratings were chosen for the 2015 Mission Summit. A special survey for 18-24 year-olds was also created and distributed to that target audience to surface topics of interest to youth.
View all June 2015 topics here.
Visit www.americanbaptists2015.com to register today.
Can't attend but want to get involved?!
Attendees for the Mission Summit 2015 event have already been notified, but we want EVERYONE to join in the conversations!
The American Baptist Computer Center has developed an online bulletin board for posting learnings and insights from conversation groups, as well as other learnings from similar regional and national conversational teams. All American Baptists are welcomed and encouraged to create an account and join in current discussions. The goal is to share the learnings from existing groups and new groups with others who may be struggling with or perhaps making progress with the same issues that others are dealing with.
This site is being used to encourage conversation before and  after the Mission Summit on the topics that will be dealt with at that event, and this Quick Start Guide will help you get started. If you are tech savvy, you probably do not need any instructions!
Visit the bulletin board forum today, here:
https://abcwiki.abc-usa.org/phpbb/index.php
Questions? Please visit www.americanbaptists2015.com, and enter them in the "Contact Us" form, and you will receive a response shortly.