American Baptists across the country and around the world are asked to continue to keep Baptists from Burma in prayer.
During a recent trip to Malaysia/Thailand/Myanmar (Burma), an ABC delegation including General Secretary Roy Medley and Rev. Florence Li, American Baptist Home Mission Societies National Coordinator, Asian Churches Strategist, along with Jim Winkler, President and General Secretary of the National Council of Churches, met many people who requested continued prayer from delegation members and the larger American Baptist family.
Read some stories that the group brought back from the trip with them:
– The delegation spent time at three refugee camps while in Myanmar. There, they met many people who were displaced, within their own country, from their homes and towns. The people had one consistent message to share: they just want to go home. But, if there is no cease-fire, then if the people go home, they will only be forced out once again by those coming to harm or kill them. So, they must remain in the camps until it is safe to return.
– Following a lapse of sixty years since American Baptists have visited the Kachin state, due to restrictions imposed by the Burmese government, the delegation has the opportunity to travel to the Kachin state. They were welcomed with a great parade, and greeted the many people that lined a stretch of the road over a mile long. The delegation walked the road, shaking hands and sharing the love of Christ with the people gathered to greet them.Today, nearly 98% of the Kachin people are Baptist and trace their Christian heritage to mission work started in the 1850s.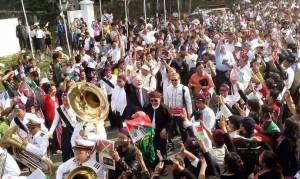 – As the delegation was leaving different areas in the Kachin state, they were touched as they met with local people holding signs, asking to be remembered. We ask that you remember and pray for these people, and those like them, whose strong faith continues to lift them and bring them peace.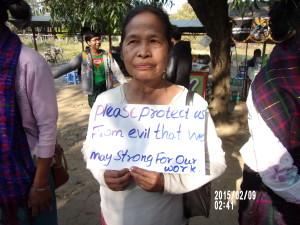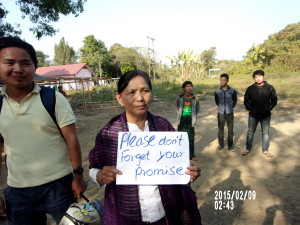 – During the trip, the delegation met with officials from the United Nations High Commissioner for Refugees (UNHCR) in both Malaysia and Thailand.  They learned that directly affecting those refugees from Myanmar (the majority of whom are Karen) who have entered refugee camps in Thailand, there is an increasing withdrawal of resources and humanitarian aid from the non-governmental organizations (NGOs) in the Thai camps. The shift of support has gradually moved into Myanmar, as the NGOs work to prepare for the return of the refugees. Although both governments have agreed that there will be no forced repatriation from Thailand to Myanmar, without continued funding in Thailand, these refugee camps are unable to function to the same level of effectiveness.
– The group met with Daw Aung San Suu Kyi, a Burmese opposition politician and chairperson of the National League for Democracy (NLD) in Burma and Nobel Peace Prize winner in 1991. She expressed concern for the upcoming election and how it should be free and fair, and that proper education and communication should be given to the voters. The delegation presented a gift from American Baptist Churches, and also joined her in prayer for her continued work and for the people of Burma.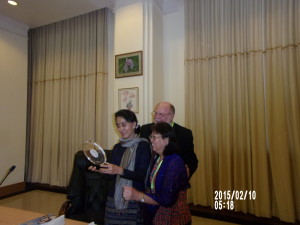 Read more about the recent ABC delegation "Peace and Justice" Advocacy & Mission Trip to Malaysia/Thailand/Myanmar (Burma), here.
The delegation members were:
Rev. Dr. A. Roy Medley, general secretary of American Baptist Churches USA
Jim Winkler, president and general secretary of the National Council of Churches
Rev. Dr. Saw Ler Htoo, general secretary of the Karen Baptist Churches USA
Rev. Dr. C. Duh Kam, executive minister of Chin Baptist Churches USA
Rev. Florence Li, national coordinator, Asian Churches Strategist
Rev. Dr. Paul Aita & Gail Aita, special assistants to Burma & SE Asia/Japan, International Ministries; visiting professor at Myanmar Institute of Theology
Rev. Dr. Edmund Z. Bik, honorary pastor of Indiana Chin Baptist Church; retired professor of Myanmar Institute of Theology
Zo Tung Hmung, executive director of Ethnic Nationalities Affairs Center, Chiang Mai, Thailand
A photo album from this trip can be viewed here.
Dr. Yam Kho Pau, General Secretary of the Myanmar Baptist Convention, also joined the delegation for a time. The delegation also met up with Rev. Joan Friesen and Jay Nordgaard, and a Kachin leader, Maw San Awng (Jum) at Myitkyina, the capital city of the Kachin State, Myanmar.
For more information about ABC's work with the Burma Refugees Commission, please contact Rev. Florence Li, Florence.Li@abhms.orgor call her office 610-768-2468.