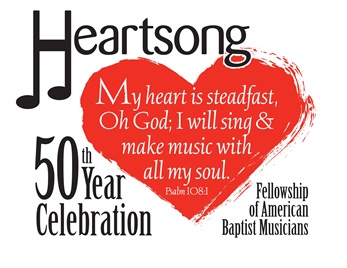 The Fellowship of American Baptist Musicians (FABM) hosts its 50th annual Conference for Church Musicians at the beautiful Green Lake Conference Center in Wisconsin this July 18-25, 2015!  Conferees of all ages will work with nationally and internationally renowned clinicians in ensemble and workshop settings.  Workshops are designed to further educate and train those involved in church music leadership.  In addition to daytime activities, the conference will host five evening concerts.
2015 Clinicians Include:
Adult/Young Adult – John Dickson, Professor of Choral Music at Louisiana State University
Worship – Thomas G. Long, Prof. of Preaching at the Candler School of Theology at Emory University
Youth – Kenney Potter, Director of Choral Activities and Music Education at Wingate University
Children – Heather Potter, Associate Conductor of the Charlotte Children's Choir and President of the Choristers Guild National Board
Handbells – Stephanie Wiltse, Conductor and Founding Member of the Embellish Handbell Choir
Instrumental – Dan Goeller, Nationally recognized composer, arranger and conductor
Organ – Howard Helvey, Composer, arranger and pianist; Organist/Choirmaster at Calvary Episcopal Church, Cincinnati, OH
Piano – Lloyd Larson, Active composer and arranger of over 1000 published works
Conference Daily Schedule:
8:30    Worship
9:15     Mass Choir Rehearsal
11:10   Workshop A
12:00  Lunch
1:10    Workshop/Ensembles B
2:10    Workshop/Ensembles C
3:10    Music Publisher Reading Session
4:10    Workshop/Ensembles D
5:00    Dinner
6:10    Music Publisher Reading Session
7:15    Concert
Registration scholarships for Youth (entering 8th – 12th grade), Children (entering 3rd – 7th grade), and Adults are available through FABM.  Scholarship applications and Registration information can be found at: http://www.fabm.com/.  Housing reservations may be made by calling the Green Lake Conference Center at 1-920-294-3323. Group discounts for registrations are also available.  Find us on Facebook!