The American Baptist Women In Ministry (ABWIM) Advisory Team not only thought out of the box, but they traveled "out of the box" to Puerto Rico to meet, learn and celebrate the advancement of women in ministry.  Rev. Pat Hernandez and the Advisory Team (Rev. Jackie Saxon, Pastor Laura Ayala, Rev. Charles Adams, Rev. Steve Bils, Rev. Jeremy Fackenthal, Rev. Michelle Holmes, Rev. Nikita McCalister, Rev. Miriam Mendez, Rev. Soozi Whitten Ford, Rev. Tom Wiles, and Rev. Karen Yee) traveled to Puerto Rico, April 16-18, 2015,  to meet with various leaders to learn about "how our American Baptist brothers and sisters have been able to intentionally work towards opening the doors of ministry and successfully promote and place so many women in prominent churches and leadership roles."
After traveling from all different parts of the United States, the team gathered the first evening at the oldest American Baptist Church in Puerto Rico, the First Baptist Church of Rio Piedras. The church recently called its first woman pastor, ABWIM Advisory Team member Pastor Laura Ayala.  The Team was welcomed by a hospitable church family and served a delicious homemade dinner.   They then met with Rev. Roberto Dieppa, Executive Minister of Puerto Rico, Rev. Lydia Rivas, Associate Executive Minister, Rev. Noelia Rodriguez, Associate Executive Minister, Rev. Yamina Apolinaris, the first women Executive Minister of Puerto Rico, and Raymond Martinez, Esq., who presented his research and history of women in ministry in Puerto Rico.  The evening inspired team members, who left with a greater understanding of how God used committed and courageous men, like Rev. Jose Norat and Rev. Angel Gutierrez, to work strategically with their women colleagues, such as Rev. Yamina Apolinaris, to promote and place women in key ministerial roles.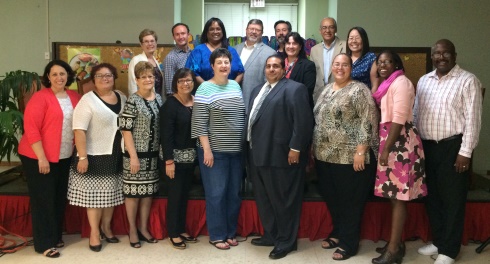 The next day the team traveled to the Evangelical Seminary of Puerto Rico, the oldest seminary in Puerto Rico, which was established in 1919. There, they met with Dr. Doris Garcia, President of the Seminary.  The Team learned about the way the Spirit used Dr. Garcia's experiences on the mission field to prepare her for her present call.   There was also an opportunity to meet with Rev. Paulita Garcia, Commission on Pastoral Relations and Ordination, and Rev. Madga Aquirre, Convener of the Association of women pastors of Central America and the Caribbean.  Again the team heard about importance of partnerships with supportive male pastors, intentional and strategic plans, and gatherings for women to meet, share, and discuss the unique issues they face in ministry.
Throughout the day the ABWIM Advisory Team experienced hospitality and delicious food from its Puerto Rican hosts. The Advisory Team also held its meeting to review and update the work of our different committees and action teams, the plans for the Mission Summit – including the ABWIM After Party and special ABWIM stoles that will be available for sale there.
Our "meeting" was a whirlwind adventure that opened our eyes and allowed us to celebrate the moving of God's Spirit that enables the full participation and full partnership of men and women to fully utilize their God given gifts and fully live out their God given call.