We invited American Baptists from across the country to share their Ministry Stories with the American Baptist Family and with the world! This is a part of the Transformed by the Spirit initiative. Want to share your story?  Written and Video submissions are invited at: americanbaptist@gmail.com. View the full list of Ministry Story Opportunity Submissions.

University Baptist Church Kids Hope Program – Project Backpack Proposal
Transformed by the Spirit – Ministry Story Opportunity
Walking down the hall, bypassing all of the little questioning faces, finally reaching one classroom–the classroom, one little face beams with recognition. He jumps out of his chair and runs toward his mentor for a big hug. It's Kids Hope Mentoring Day and it's time for this student's one on one time with his mentor.
In another classroom, one student waits anxiously for her special guest to arrive. She looks back forth from the clock to the door, waiting to see her mentor's smiling face and to hear her teacher say she can go spend time with her Kids Hope mentor. Though they've only met three times and she's still a bit apprehensive about whether or not this lady will stay, she really likes her new friend and her new friend helps her with math.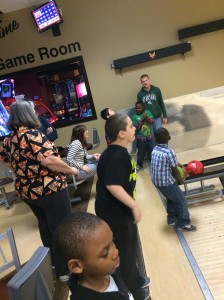 These are just two examples of the impact and bond that has been developed between students at Averill Elementary School in Lansing, Michigan and members of the University Baptist Church, based in East Lansing, Michigan. The University Baptist Church Kids Hope Program has matched 8 members of our congregation with 8 elementary school children. These children where identified by teachers and other faculty members at the school as needing additional support academically as well as emotionally. Though all of the students' needs are different, and very few of our mentors have experience as educators, all of the mentor and mentee matches are covered in prayer by prayer partners, all of the children are shown genuine Christian love, and all of the mentors are given materials and structure to help them provide academic assistance to the students as well as build bonds that will last past this mentorship experience.
As a church, participating in the Kids Hope USA program, we have not only been able to expand our reach beyond our immediate community, but also support a struggling school and give one- on- one assistance to students in cases in which teachers cannot. The University Baptist Church Kids Hope program mission is to not only connect with children who can benefit from additional love and attention, but also embed ourselves in the life of Averill Elementary School. This mission has been advanced in various ways whether it is through reading to classrooms, sponsoring families during the Holiday season with gifts and food, and equipping students, staff, and faculty with resources for the education experience.
While we, as a church, have made headway in strengthening our bonds with Averill Elementary School, we have been challenged by not having the financial resources to truly fulfill the needs within the school for students and their families. Additionally, given the time constraints of participating as a mentor, we are restrained in the number of students we are able to have participate in the program and the number of mentors we are able to attain each year. For this reason, it is even more so important that University Baptist Church be embedded in Averill Elementary School activities, events, and culture in order to show Christian love to not only our Kids Hope kids, but also other children all around the school It is our hope to show this love and support to children throughout the school via Project Backpack. We would essentially like to provide backpacks and school supplies to children at Averill Elementary School who are in need of these resources at the beginning of each school year.
A child's experience in elementary school is especially important because it is the building blocks to future education and educational experiences. By helping to ensure that children at Averill Elementary School are fully equipped to have positive academic experiences and feel supported in the academic environment, we are helping to foster a positive perception of education and building a student's confidence about achieving academic success. The University Baptist Church Kids Hope program won't reach every child at Averill Elementary School in the mentorship capacity, but we can ensure that we reach each child in some way just by showing that someone cares about their future and their success.