We invited American Baptists from across the country to share their Ministry Stories with the American Baptist Family and with the world! This is a part of the Transformed by the Spirit initiative. Want to share your story?  Written and Video submissions are invited at: americanbaptist@gmail.com. View the full list of Ministry Story Opportunity Submissions.
Ministry Story – Harvest for the Hungry, First Baptist Church of Stilwell, Kansas
Transformed by the Spirit – Ministry Story Opportunity
Harvest for the Hungry  
In the spring of 2011 a high school student approached one of our boards asking permission to take a portion of our six-acre property and turn it into a vegetable garden as her senior project. Her idea was to take the produce from that garden and donate it to our Food Pantry. The board unanimously endorsed her plan but the school rejected it as a violation of "church and state". The Senior Pastor thought the idea had so much merit he went forward with the project anyway – despite not having someone to champion the garden or supervise its creation. [1] Within a couple of weeks of breaking ground, a retired gentleman volunteered to be the "Master Gardener of the Master's Garden" and frankly we could never have done it without him.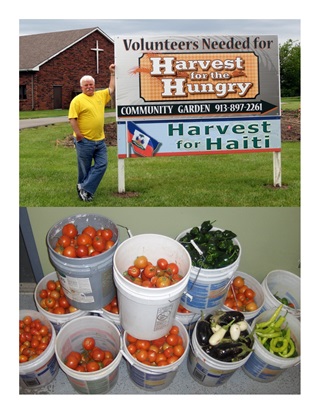 The decision was made not to hide the garden on one of the back acres of the church's property but rather to make it as visible as possible. So our garden occupies 16,000 square feet of space as close to the main road and main gas station as we could place it. [4] As a result of that close to 4,000 people drive by it every day. And it garners a great deal of attention and response.
The first year was quite a challenge as volunteers worked with limited resources [2] but as the end of the first season was approaching we were awarded a Palmer Foundation grant and we immediately began to plan how we could make the second season significantly more successful than the first.
We purchased three small storage buildings, numerous hand tools, wheel barrows, a Rototiller, hoses and sprinkler heads, sprinkler tripods for spraying water across a large area of land and back pack sprayers – one for fertilizer and one for weed control. Then we bought various chemicals to enhance plant growth as well as to deal with insects and to repel deer (until such time as we could get the fence erected). By the third season, we purchased posts and wire fencing, extenders and deer fencing. We bought a fence pole "setter" and brackets and nails and screws and a whole bunch of things to put up a sturdy, permanent fence that would keep out as many varmints as possible. Construction of the fence and gates took way more time than we had first thought it would but after dozens of man-hours, it was completed and picture perfect.
Once all of the equipment was purchased, we turned out attention to the contents of the garden. We purchased seeds and seedlings. The suggestion was made to use some of the other acreage for a small apple orchard and a peach orchard so 14 apple trees and 6 peach trees were purchased and planted. The third winter we expanded our food growing efforts by adding another 5,000 square foot area plot in another area that was planted with flowers to be cut, arranged and sold as a fund raiser for the Haitian Mission Team.
As the garden became more visible and as word of it spread throughout our community we had a Brownie Troop come and ask if they could help. [3] They learned how to plant peppers. Many of them had never made the connection between plants in a garden and the produce they saw on the grocery shelves. Needless to say, it was an eye-opening experience for them (particularly when they returned two months later to the row of peppers they had planted and saw green peppers hanging from every plant!)
Thanks to our watering system, the tomatoes came in by the hundreds.   The first year we planted 35 different varieties of tomatoes (don't ask why!) but by the second year we had reduced that to nine varieties that seemed to do well in this climate and soil. We became more aware of what the folks in the Food Pantry lines wanted so we added kale, and brussels sprouts, and other more "healthy" vegetables. The garden has been existence for four summers now and each year it produces about 8,000 pounds of fresh vegetables. We anticipated that but what we didn't see coming were the side benefits of taking a significant portion of the church's front lawn and turning it into a vegetable garden to feed the poor. For instance, a local tree-trimming company saw the garden, contacted us and asked if we would like to have their ground-up tree branches and leaves to use as mulch. We had to cry "uncle" after the third dump truck arrived but it was tremendous blessing to receive free mulch.
Then a Boy Scout asked if there was something he could do or build for us as his Eagle Scout project and the result were a series of compost bins. The next door neighbor of our "Master Gardener" had a composter that he wasn't using and graciously donated that to church garden. National Honor Society students came and worked in the garden to earn community service hours. And people would drive by and see a volunteer out working in the garden and they would just randomly stop to visit or comment on what a great idea it was to use church land to raise vegetables to give away to hungry people. Or they would stop to donate money or ask how they could help. We had more than one neighbor come and bring extra plants which they had purchased either for us or because they were had purchased too many for their personal gardens.
And everywhere one of pastoral staff or church members went someone would comment about our garden as soon as they learned we went to First Baptist of Stilwell.
And perhaps the most unexpected blessing of all was the smiles. Working in a large garden is hard work but it provided wonderful service opportunities for our small groups and day after day, hour after hour, the garden brought smiles to the faces of those who came to volunteer. Maybe it was the camaraderie. Maybe it was the sense of satisfaction of knowing that their labor would produce something that would benefit hungry people. Maybe it was knowing that they were the Master's children, working in the Master's garden. Whatever the reason, the garden made people smile. And it brought smiles to many faces of the folks who drove by or walked by. And it brought smiles to the hundreds being provided with fresh vegetables. For miles in all directions, we have become known as "the church with the vegetable garden" – so much so that there's even been a proposal made to change our name to 'The Church with the Garden"!
It is quite humbling to realize that the kindness and generosity of a wide variety of people both inside and outside of our church family, could work together to touch hundreds of lives in such a simple but profound way. On the average, each week since the garden began producing the first season, we have given vegetables away to more than three hundred families. In 2014, some weeks it was as many as 420 families and some weeks as few as 240 families.
Instead of mowing the grass around the church to make a pretty picture, we have used some of what God has given us to bless the less fortunate of our community and there is not a single thing that we have done in the last five years that has had a greater impact for the cause of Christ. [5] For that we give Him all the praise and glory!