The story below is about a ministry of Military Street Baptist Church in Houlton, Maine, which is a recent recipient of the Matthew 25 Grant, sponsored by ABCUSA.
Military Street Baptist Church in Houlton, Maine, is serving as the hands and feet of Christ through Adopt-A-Block of Aroostook (AABA). This ministry was begun six years ago, when the church adopted a single block of 45 families, seeking to live out the words of Jesus.  Ministry ranged from delivering home-made cookies to the families, to distributing food and household staples, to friendly well-being checks.  The ministry has grown by leaps and bounds as the town manager and local police have encouraged it.  Now over 300 people are being served on a monthly basis. In addition to monthly community free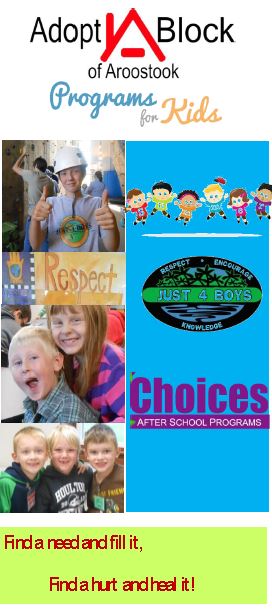 breakfasts and clothing giveaways, AABA offers afterschool programming, summer camp, parenting classes, Cooking Matters classes and individualized follow up of the adopted residents. Relationships have been built over time and individuals are coming to church, accepting Christ and being baptized. Families are participating in AABA as volunteers and lives are being changed.
Two significant projects of the ministry are the Choices Afterschool Program and Just 4 Boys, a summer ministry for at risk boys ages 7-12. With the help of funding from the ABCUSA Matthew 25 Grant, both of these are continuing to grow and flourish.
The Choices Afterschool Program began to meet a need caused by the local schools closing early on Tuesdays for staff development. Aiming to break generational cycles of poverty, the activities are designed to build character, promote trust and build and model healthy relationships with volunteers and staff.  Students in grades 1 – 8 are invited to participate.  Opportunities include a quiet area for homework; a computer lab; opportunities for healthy activity both indoors and outdoors; and musical/drama activities which culminate in performances at Christmas and Mother's Day by the Terrific Tuesday Kids Choir.
Just 4 Boys provides a day camp experience for at-risk boys for 3-4 weeks each summer. This year, 26 boys participated.  Free lunches and breakfasts were provided through a federal program.  Activities such as art projects, day trips, pottery, cooking, fishing, swimming, music and science helped the boys to develop healthy relationships with staff and volunteers.  They learned to articulate their feelings, work on triggers and behaviors, and to use behavioral tools to resolve conflict. As some of the boys are aging out of the program, they are being allowed to return as junior counselors under the guidance of an adult mentor.
The members of Military Street Baptist Church are living out the words of Jesus in Matthew 25: Just as you did it to one of the least of these who are members of my family, you did it to me.
The Matthew 25 Grant, sponsored by ABCUSA, is funded by a generous donor whose goal is to help meet the needs of "housing, feeding, education and health with regard to the less fortunate." Ministries must be in relationship with American Baptist Churches to be eligible to apply.  Awards for the Matthew 25 grant are made twice a year, in April and October, with application deadlines of March 1 and September 1. To view the guidelines and download the application form, click here.