The report below was written by Dwight Stinnett, executive minister of the American Baptist Churches of the Great Rivers Region, about "For Such a Time as This," an event held Saturday, March 14, in St. Louis, Missouri.
The events of Ferguson, Missouri, have only been magnified as similar and related events from across the nation have come to the forefront over the last months. Let's be honest, structural racism is deep and widespread across our society. It is masked by a thin veneer of polite behavior and conversation, resisted by those who see racism only as a personal issue, and exacerbated by our mutual isolation.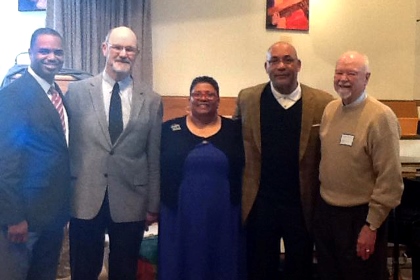 Great Rivers Region (GRR) pastors in the St. Louis area were involved from the very beginning as events in Ferguson unfolded. As tensions rose, they met before Christmas with the encouragement of regional staff to begin "holy conversations" among themselves. While our immediate concern was understandably Ferguson, we all knew this was a larger issue. As one participant observed "this is a heart issue…and the Church has the answer." We resolved that the community of Christ must work through this before we have credibility to address the larger culture.
Consequently, further conversations were planned and we resolved to relocate our Area V meeting to St. Louis (Area V includes Missouri and all of the Metro-St. Louis environs). The event was held at Dayspring Baptist Church (formerly Delmar Baptist Church), where Pastor Chris Fillingham had volunteered to host the meeting. Nearly a year ago we had already invited Rev. Desmond Hoffmeister to be our speaker. This seemed to be God at work!
Rev. Muriel Johnson, GRR regional staff, and Area V leaders redesigned the meeting plan for learning and conversation set within the context of
worship. Planners changed the thematic focus to "For Such A Time As This." Rev. Desmond Hoffmeister would be speaking from his experience of apartheid in South Africa and his work toward racial reconciliation with Nelson Mandela. In preparation for the meeting, Rev. Hoffmeister visited Ferguson and met with church leaders privately.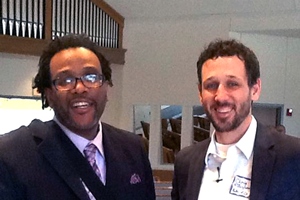 After Rev. Hoffmeister's presentation, an open conversation was guided by Rev. Dr. Carl Kenney II, Co-Pastor of the Bethel Baptist Church in Columbia MO and Adjunct Instructor at the University of Missouri. The service was concluded with the celebration of communion, and the rich conversation continued around tables as we at lunch together.
It was a small step. But this was the first time such an open conversation had been intentionally structured for Area V churches. One of Dr. Kenney's provocative questions was: "Is this a kairos moment … or will we just return to business as usual?" Responses reflected confusion, pain, anxiety and hope.
It is our prayer that such conversations continue not only for the sake of Ferguson, but for our whole country — beginning with our churches.