Kayla Jean Mueller, from Prescott, Arizona, the only American woman to be held captive and killed by the Islamic State, has joined the great cloud of witnesses, saints above of whom this violence-thirsty world is not worthy.
Our hearts grieve over the senseless death of this courageous young woman.
American Baptist Churches USA celebrates the life and brave witness of this incredible young woman and extends its prayers and heartfelt sympathy to her family members and friends.  General Secretary A. Roy Medley said, "Kayla manifested the sacrificial love of Christ in her life in a manner that is inspiring to all of us who are his disciples. We join the people of God of every age who pray for the day when every sword shall become a plow and every spear a pruning hook, and Christ's love shall fill all of creation."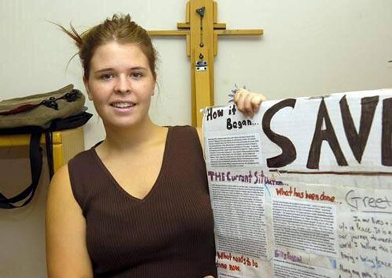 In 26 short years, Kayla has bequeathed to the world the gift of a life dedicated to serving God in the thick of human suffering.  In the words of her aunt, Lori Lyon, gathered with friends and family on the steps of the Yavapai courthouse on Tuesday,  Kayla "has done more in her incredible 26 years than many people can ever imagine doing in their lifetime."
Before Kayla was abducted by the terrorist group in August 2013, her life showed the generosity of a person staunchly committed to alleviating at any cost the suffering of the less fortunate anywhere in the world.  From her leadership with recycling in her community to traveling to several hotspots around the world, Kayla became a clear light in the fight for freedom, peace and justice among all people who suffer.
Her inspiring life is especially an example to young people to take the road less traveled to become personally and sacrificially involved in serving others.  Kayla's life reminds us of words loved by civil rights leader, Rev. Dr. Martin Luther King, Jr.: "If I can help somebody as I pass along, then my living will not be in vain."