The story below is about Camp Lake Louise and how this organization has been Transformed by the Spirit. The story comes from the American Baptist Churches of Michigan, written by David Nichols, and is used with permission.

Several years ago Rev. Jim Kent thought it would be a good thing to have high school students serve as "cabin leaders" for the annual Adult Jamboree at Camp Lake Louise. He thought there would be several benefits to having an intergenerational experience, and some of the elderly campers (the oldest this year was 91!) could use a little assistance from time to time.
Alex, now a college sophomore, has been such a cabin leader for five years. Over that time, and in her years as part of the camp's program staff or resident staff, Alex has had opportunity to touch the lives of many.
This year something touched Alex in a special way.
At the end of the first day's Bible lesson, everyone was asked to join with two people they didn't know and form a small group. Alex ended up with Wayne and Brenda. They started talking about how long they had been coming to camp and Alex shared her story:
My first time at camp was really hard for me. I was in the third grade and had never been away from home before. My mom and I were really close, and I missed her terribly. At one point, I went to my cabin to be alone because I felt so bad.
I started to cry and I must have been crying really loud because one of the adults heard me and came to see what was wrong. I told her how much I missed my mom.
At this point, Brenda broke into Alex's story:
"I bet she invited you to go with her to the dining hall and have a glass of chocolate milk."
Alex was shocked.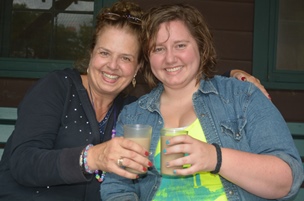 Yes, that's exactly what happened. We had a glass of chocolate milk and then went out on the porch and sat on the swing and talked for the longest time. How did you know?
Brenda replied,
Because I was the woman.
Twelve years have passed since that initial encounter, but the memory of it has faded little. Alex says it was like a sign from God that camp would be a safe place with someone who could be like another mother to her throughout the week. Brenda says this was a one-of-kind encounter for her in all the years she directed Intro Camp.
The Bible study was given by Rev. Nichols and was based on his book, Learning to Love Your Neighbor. The lesson for the last day of camp focused on serving others through tangible expressions of God's love. Jesus said one way to do this was by seeing "one of the least of these" who was thirsty and giving her water.
Or maybe chocolate milk.