The story below is written as a first-hand account by Kim Runkle, about a ministry of the First Baptist Church of Jacksonville, Illinois. The church is a recent recipient of the Matthew 25 Grant, sponsored by ABCUSA.
First Baptist Church of Jacksonville, Illinois, is taking the phrase "cleanliness is next to Godliness" literally. In 2012, a small group of members proposed creating a Personal Needs Pantry to address a need in the Jacksonville community. As many churches do, FBC Jacksonville organizes a Christmas outreach every year. As part of the "Christmas basket" we were providing a limited amount of personal care items and household cleaning products. Over the years, many of our Christmas families expressed tremendous gratitude for those particular items, explaining that those items could not be purchased with SNAP benefits and many times they simply didn't have enough money to buy things like toilet paper, shampoo, deodorant and laundry detergent.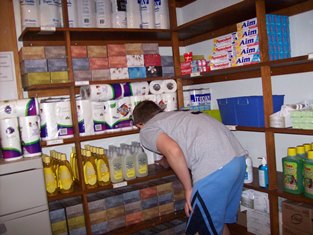 After some research indicated that no local agency was providing these items, the FBC Personal Needs Pantry was born. After a strong start in June 2012, the next five months were a testing and trial period. We partnered with the local Salvation Army, Food Center and other agencies. We learned what items families wanted and needed. We adjusted our inventory. We experimented with open hours vs. appointments. We hosted 57 visits to the Pantry representing 37 households.
Then January 2013 came. We hosted 26 visits in that one month – many more than we ever thought possible. It was apparent that we had struck a chord in the community. We had found a niche that no other church or agency was filling. and we were going to need some additional resources.
Prayer was answered in the spring of 2013 when we learned of the ABCUSA Matthew 25 Grant. We applied and received an award. This allowed us to place bulk orders with a distributor, receiving discounts of up to 30% on many products. What a blessing and multiplication of resources! We know that without the Matthew 25 Grant, we would have had a much harder time filling our shelves in 2013 and likely would have turned people away on certain days. But with the grant money providing a strong boost to our buying power, we were able to host 263 visits representing 166 different households.  We are encouraged by the fact that only a small number of the households we serve turn out to be "repeat customers." Only 12 families returned to the Pantry more than 4 times in 2013; most households – 113 to be exact – visited only one time.  The number served grew in 2014, with 324 families representing 870 persons in the first ten months of the year.  A second ABCUSA Matthew 25 Grant in the spring of 2014 made this explosive growth possible. We truly believe that our little corner closet-turned-Personal Needs Pantry is making a difference in the lives of people in Morgan County, Illinois, and giving a "hand up" in their situation of need.
In addition to providing cleaning and hygiene items, our Pastor has made it a priority to meet with as many Pantry client families as possible to talk with them, pray with them and share the Gospel with them. We invite all Pantry visitors to church and children's activities, and provide Bibles if they need one.
It's our desire to help people going through tough times to preserve some personal dignity and to show our compassion for others through something as simple as a toothbrush. When Jesus washed the disciples' feet, he did it to set an example for his followers to serve others. We just want to live out that example with servant hearts.

The Matthew 25 Grant, sponsored by ABCUSA, is funded by a generous donor whose goal is to help meet the needs of "housing, feeding, education and health with regard to the less fortunate." Ministries must be in relationship with American Baptist Churches to be eligible to apply.  Awards for the Matthew 25 grant are made twice a year, in April and October, with application deadlines of March 1 and September 1. To view the guidelines and download the application form, click here.
Read about what different organizations and churches have done with Matthew 25 Grant Funding