VALLEY FORGE, PA (ABNS 9/10/14)—American Baptist Women's Ministries has developed a new logo for the organization and launched its redesigned website, announced Virginia Holmstrom, executive director.
Looking towards celebrating its 65th anniversary in 2016, AB Women's Ministries designed a new logo to communicate boldness of faith as women compelled by commitment to Christ to act for change in the world. The logo expresses the simplicity of the organization's mission statement as a Christ-centered organization that encourages and empowers women and girls to serve God. It expresses partnership in the community of American Baptist Churches USA.
Additionally, the AB Women's Ministries website at http://www.abwministries.org/ has been restructured and redesigned to better reflect and resource current mission and ministries,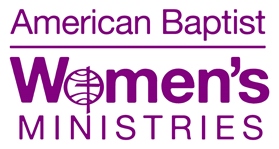 Virginia Holmstrom commented on the new website and logo:  "Our website has a fresh new look and was restructured for simplicity. We're offering more free downloadable resources for ministries with women and girls. The website also features supplemental information about current mission and ministry emphases. The website reflects the freshness of our new logo. While there is some sadness in retiring a logo portraying a biblical woman–a logo that served us well for 25 years–it was time to communicate a new image to the next generation of women and girls. We continue to honor those who have gone before us preparing the way for vibrant mission and ministry in 2014 and beyond."
American Baptist Women's Ministries is a Christ-centered ministry with a commitment to encourage and empower women and girls to serve God.
American Baptist Churches USA is one of the most diverse Christian denominations today, with over 5,200 local congregations comprised of 1.3 million members, across the United States and Puerto Rico, all engaged in God's mission around the world.