From Wednesday, April 30 to Friday, May 2, 2014, American Baptist Churches hosted the Burma Diaspora Community meetings at the American Baptist Churches Mission Center in Valley Forge, Pennsylvania. Members of seven Burmese ethnic groups came together for the event, including Burmese, Chin, Falam Chin, Kachin, Karen, Karenni, and Lisu. View photos from the event.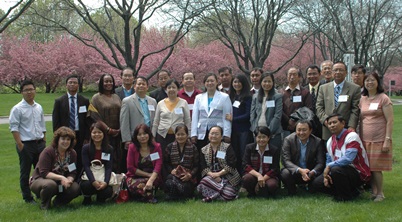 The event was facilitated by Rev. Donald Ng, president of American Baptist Churches USA (ABCUSA) and senior pastor of First Chinese Baptist church in San Francisco. Rev. Florence Li and Rev. Saw Ler Htoo, staff for the American Baptist Home Mission Societies, were also involved in the planning and facilitation of the event.
"I feel a sense of unity among the diversity within the various ethnic groups," said Li. "There is a strong desire to work together towards the betterment of the diaspora community, especially when attendees recognized the common ground issues and the overall mission goals. What came out of this meeting is that they began their "networking" and focus on "youth and family ministry" with open invitations to continue working with one another in respective events and topics."
In an original invitation to the meeting, General Secretary A. Roy Medley wrote, "As the community of Baptists from Burma grows, its organization has also become more complex as different associations and fellowships have formed within it. My invitation to you is to join with other Baptist leaders of the diaspora community in America to discern whether it is good in the eyes of God for us to create a fellowship body for cooperation in mission and ministry among these several associations and fellowships."
Ng explained, "The hope its that each of the Baptist conventions and associations would continue to be organized along their own ethnic culture groups, but in the same level of commitment, they are now coming together to do the kind of cooperative ministries that would strengthen each of their abilities that they wouldn't be able to do on their own. We want to respect the distinct differences of each group, but now that they are in the United States and working with ABCUSA, by working in a more collaborative fashion, they would be able to do even more things."
Meeting attendee Hkadin Lah Taw Lee shared a devotion on the final day of the meeting. "I was asked, 'What do you hope to learn from this conference?'" she said. "After I spent two days here meeting with other Burmese people, I feel love. I feel very welcomed by ABCUSA, ABW and all the communities that are from Burma. This is my testimony that I feel the love that you all show us to be together, work as one, instead of working separately."
Reflecting on the past two days, she said, "If we have love, we can conquer any obstacles that we face in the journey. I have learned so much from each of you. We all are trying to serve the people we love, the ethnic groups we are from, and the country we are from and love. We want to show how we can support one another. Oftentimes we forget how we can share the love that Jesus taught us."
During the meeting, ABCUSA President Don Ng shared his own story with attendees, that in 1947, it was the American Baptist Home Mission Societies that helped his father sponsor his mother to come to America in 1942. Shortly after, Ng was born and grew up as a member of the First Baptist Church of Boston.
"We are a country of refugees, immigrants and citizens. We all come here from different parts of the world and we make this new country our own," said Ng. "We are here to talk with each other, to talk with American Baptist staff, and to build something that is not yet birthed. We would like to see that when we leave this place, we will have some commitments to continue to do work following our time together at the Mission Center."
American Baptist Churches will continue to work with the Burmese Diaspora Community and advocate for Burma, both through its Burma Refugee Task Force and through other programs and events.