VALLEY FORGE, PA (ABNS 5/22/14)—The American Baptist Women in Ministry Advisory Team met for its annual meeting in Denver Colorado, May 13-14, 2014. At the meeting, the Team worked on key strategic priorities for the coming year in the areas of Communications, Strategic Partnerships, Education, Search and Call, Seminarians and Fundraising.
"I believe the meeting went very well. We literally came from North, South, East and West and gathered in Denver, and in a span of less than 24 hours together, we worked on our strategic priorities," said Rev. Jackie Saxon, convener of the ABWIM Advisory Team. "Throughout our meeting, we were mindful of the questions: When we meet next year, what do we want to have accomplished?  What will we ABWIM be celebrating?"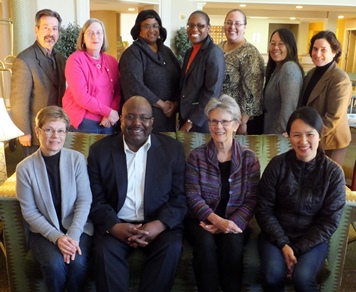 This year, the Advisory Board welcomed three new board members: Rev. Michelle Holmes, Rev. Nikita McCalister and Rev. Laura Ayala, who will serve a three year term. At the end of the year Rev. Holly Bean, Rev. Judy Allbee and Rev. Lauren Ng will be rotating off the board.
American Baptist Women in Ministry is planning a presence at the 2015 Mission Summit Biennial event in Overland Park, Kansas, June 26-18, 2015, and will host its 2nd annual ABWIM After Party after one of the evening plenary sessions during the event.
Pictured:
Seated on the couch: Michelle Holmes, Charles Adams, Holly Bean, Lauren Ng
Standing up: Steve Bils, Judy Allbee, Jackie Saxon, Nikita McCalister, Laura Ayala, Karen Yee, Pat Hernandez, ABWIM Executive Director
American Baptist Churches is one of the most diverse Christian denominations today, with over 5,200 local congregations comprised of 1.3 million members, across the United States and Puerto Rico, all engaged in God's mission around the world.