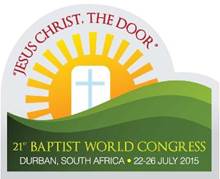 On behalf of the Congress Program Committee of the Baptist World Alliance, you are invited to participate in the 21st Baptist World Congress, taking place in Durban, South Africa, July 22-26, 2015. Download the Performing Arts Application
Held once every five years for the last 105 years, this will be the very first time that Africa will be hosting.  You are invited to be a part of history!
Celebrating the theme: "JESUS CHRIST, THE DOOR", the Congress is expected to attract Baptist Christians from all around the world but especially from the Continent of Africa.
This five days gathering will offer unique worship experiences, international music, multiple opportunities for networking and fellowship, training in the areas of Evangelism, Church Planting, Peace and Justice, Advocacy, and Sustainable Development.  In addition, Bible study will be offered in multiple languages. This is not an event you would want to miss.
The Baptist World Alliance invites all members of the global Baptist family to Durban for this historic gathering.
As with all of the congresses, music and the creative arts form a vital part of the gathering experience and it would be great to have you to share with us. 
Click to download the Performing Arts Application to perform at the 21st Baptist World Congress, July 22-26, 2015.
Please visit the BWA Website for additional information to assist you with your planning, www.bwanet.org/congress.