Are you looking for a way to reconnect with God and continue your spiritual journey? Do you struggle for balance between prayer and activity? Do you long for more silence and solitude in your life and ministry? More energy for compassion, peace and justice? This year, there will be two conferences focused on just that:
Rhythms of the Spirit Retreat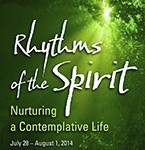 Green Lake Conference Center
Green Lake, Wisconsin
July 28-August 1, 2014
Rhythms of the Spirit Retreat
Redwood Glen Conference Center
Loma Mar, California
November 3-7, 2014
This conference, offered in a retreat style and in two locations for 2014, provides a unique opportunity to explore and practice the contemplative life together.
We'll focus on your own spiritual practice providing time to develop solitude and silence, creating the expansive space necessary to welcome God's voice. If you desire spiritual direction, each conference will provide the opportunity for you to meet one-on-one with a spiritual companion.
 We hope you can join us.
Brad Berglund, Retreat Coordinator