VALLEY FORGE, PA (ABNS 3/12/14)—The North American Baptist Fellowship event, "FutureBaptists: A Collaborative Missional Movement," took place March 6-7 at Enon Tabernacle Baptist Church, an American Baptist Churches USA affiliated church in Philadelphia, PA. FutureBaptists was a gathering honoring the 50th anniversary of the North American Baptist Fellowship (NABF) that anticipates the next 50 years of Baptists in North America as a collaborative missional movement.
"Do we want to survive, or do we want to thrive?" asked Dr. David Goatley, executive-secretary treasurer of the Lott Carey Foreign Mission Convention, in an opening message. "One conclusion is that if we want to just survive, we can keep going it alone."
"Do we want to thrive? Do we want to be vibrant and vital and life-giving? Do we want to be on a journey where the end is not predetermined, where we grow and change and adapt? I think collaboration, and how we handle that question, will determine the answer," said Goatley.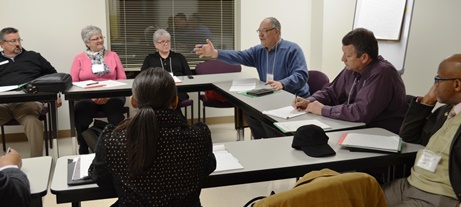 The key questions for FutureBaptists to address were, "What will characterize Baptists as a Collaborative Missional Movement from the base of North America in the Year 2064?" FutureBaptists sought to anticipate the future for Baptists in North America, in general, and the member organizations of NABF, specifically, and to involve those who will be leaders of the future of a collaborative missional movement among Baptists from the base of North America. Over 80 Baptists from different denominations and groups throughout North America in attendance for the event.
In the weeks leading up to the NABF event, George Bullard, general secretary of the NABF, surveyed registrants about what, to them, were the most compelling issues offering possibilities for collaboration moving into the future. From that survey, twelve issues were identified and discussed at the FutureBaptists event. The participants then narrowed those down to three: congregational transformation and renewal, systemic reform to end economic oppression, and evangelism. Bullard announced that the recommendations would be taken to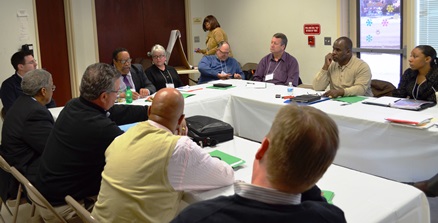 the NABF executive committee to consider a course of action.
The convocation was sponsored by the member bodies of the North American Baptist Fellowship in partnership with American Baptist International Ministries, the Philadelphia Baptist Association, and Enon Tabernacle Baptist Church.
"It is my prayer that we can build on the conversations here. There are things that propel us into collaboration and effective communication and my hope is that it will inspire us to discover those new ways in which we can be collaborative in the years ahead,"
said Reid Trulson, executive director of International Ministries, as he greeted attendees.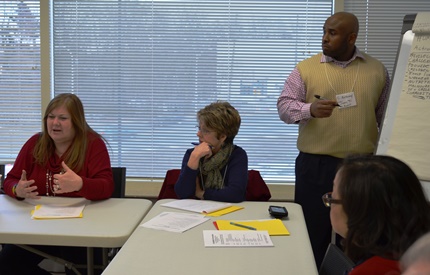 American Baptist attendees provided feedback about the event:
Dean Parker, director, ABCUSA Board of General Ministries:
"I feel a fresh move of the Holy Spirit during this convocation of future baptists. I feel like I can make a difference. I believe that God has anointed us to be here for a time such as this, to look at Baptists fifty years from now and what is important."
Leta Williams, FBC of Herkimer, New York, and student at Eastern University:
"I think this event has prompted Baptists everywhere to leave behind feelings of stagnant complacency. We shared stories of our past that oriented us to where we are now, and it was so great to share common hopes and desires for the future. We realize now more than ever that the church is not the building, institution, or organization, but the people that the Holy Spirit can work in and through."
Reid Trulson, executive director, International Ministries:
"The FutureBaptists event enabled Baptists from various traditions to discuss ways we might collaborate to bring about change in several significant areas. The small group in which I participated was remarkably energized in its discussions about congregational transformation, women in ministry and human trafficking. The ongoing value of the event will be seen as the NABF helps to facilitate collaboration in areas such as these."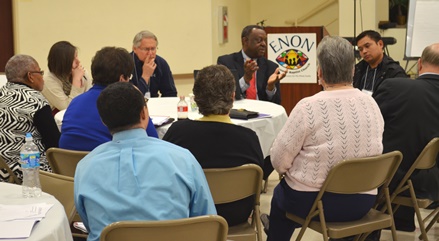 Rev. Anthony Jones, pastor of United Cornerstone Missionary Baptist Church, Winston-Salem, North Carolina
"What was most impressive was the breath of diversity represented within the Baptist domain, resulting in a wide variety of views, questions, and ideas regarding the topics of discussion. Also, I appreciated the small gathering which fostered greater intimacy leading to a more intense and productive dialogue. My hope is that the discussions will lead to initiatives, programs, and activities that will take less than 50 years."
TaNikka Sheppard, director of Life Development, New Salem Missionary Baptist Church, Columbus, Ohio:
"The event was very thought-provoking. I was able to learn new perspectives on the Baptist Church and tradition. My hope is that the ministry and message of Baptists are relevant, truthful and life-giving."
Rev. Dr. Reginald Mills, president of American Baptist International Ministries:
"I found it refreshing to sit at table in our group with a dozen 'strangers' and discuss difficult issues in a Christ-honoring way. NABF hopes to leverage our input to identify areas for future collaboration. I believe the NABF's desire for Baptists to synergistically address the most menacing human issues is noble, sure. But in less grandiose language, it is simply the right thing to do."

Learn more: Read the Associated Baptist Press Story
The North American Baptist Fellowship is one of the six regional fellowships of the Baptist World Alliance. It represents the diverse racial and ethnic Baptist family of Baptists in the United States and Canada affiliated with numerous conventions, unions, and auxiliary organizations. Various historic, doctrinal, missional, and ecclesiological perspectives are represented within the NABF. The Baptist World Alliance is a fellowship of 228 conventions and unions in 121 countries and territories comprising 42 million members in 177,000 churches. American Baptist Churches USA is affiliated with both the North American Baptist Fellowship and the Baptist World Alliance.
American Baptist Churches is one of the most diverse Christian denominations today, with over 5,200 local congregations comprised of 1.3 million members, across the United States and Puerto Rico, all engaged in God's mission around the world.