Employees at the American Baptist Churches Mission Center in Valley Forge, Pennsylvania, joined together on Thursday morning, February 27, for a celebration of Black History Month.
"What can we do together to celebrate Black History?" said Rev. Dr. Brenda Halliburton-Williams, national coordinator for Intercultural Ministries with the American Baptist Home Mission Societies. "Together as a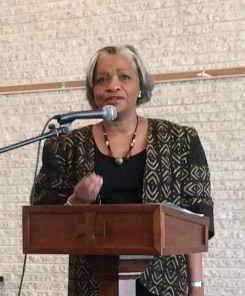 community, we have accomplished much. And together as a community, we can still do great things. What is God calling us to do?"
Halliburton-Williams introduced worship leader Rev. John West, III, pastor of Siloam Baptist Church in Norristown, Pennsylvania, as a "neighborhood pastor," or a pastor who really cares and is connected with what is going on in the local community. West led the reflection on 1 Samuel 30:1-8, and later thanked ABC staff in the Mission Center for their work in the denomination.
American Baptist ordained Rev. Dr. Harold Dean Trulear, associate professor and Director of the Doctor of Ministry program at Howard University, brought the message. Rev. Dr. Trulear preached a sermon on 1 Samuel 30:1-8, entitled, "Go Get Your Stuff," focusing on incarceration in today's world.
Trulear reflected, "What if we were to mobilize whole congregations, and we treated incarceration the same way we treated sickness?"
"God says pursue. Which is good news for the church. Because we haven't been doing it right…God is there to help us to go," he said.
"With our ministry as partners in Prisoner Reentry and Aftercare Ministry, we are saying, 'let's start with our own folks. Let's reclaim our young people. Let's go get our stuff,'" said Trulear.
Minister Shani Johnson led an inspiring version of the spiritual, "Trouble in my Way," which is included below.
"You aren't singing for performance. You are singing ministry. And you will feel better, if you sing for ministry and understanding," said Johnson. "When you think about African American history, there is no way to get into its history without looking at the faith and the journey."