Reid Trulson, executive director of International Ministries,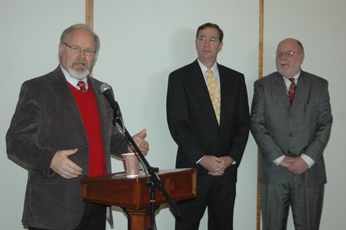 served as host as staff at the Mission Center gathered on January 17, 2014, to acknowledge the installation of ABCUSA General Secretary A. Roy Medley as chair of the newly constituted National Council of Churches (NCC) Governing Board.  In this position, Medley is serving as the elected leader of the organization, working closely with other elected representatives and staff.
James E. Winkler, General Secretary/President of NCC, was on hand and presented Medley with a pewter communion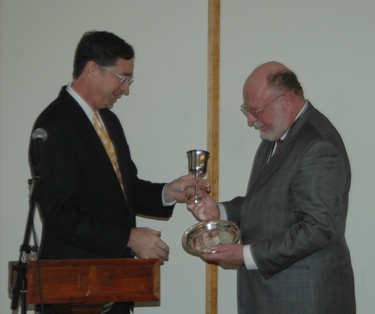 plate and chalice in recognition of his service.  He acknowledged the importance of a strong board chair, and expressed his appreciation to Medley for his many leadership gifts.
Medley responded that he is excited about the opportunity to work with Winkler, and is looking forward to this two-year term.  His major areas of emphasis will be issues related to mass incarceration and the importance of interfaith dialogue as a path to peace.