On the heels of Orientation To American Baptist Life and the Emerge Ministers Conference in Florida in early January, our General Secretary, A. Roy Medley, took the opportunity to attend three statewide reception and gatherings of ABC clergy, missionaries, laity and friends,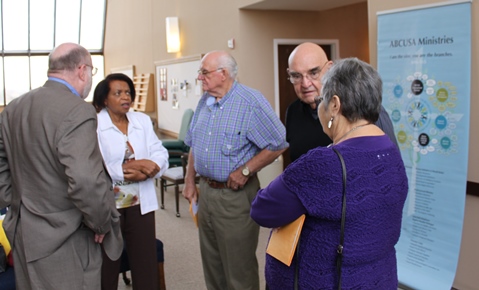 most of whom are retired.  The three events were held on January 13, 14 and 15, and were hosted by Rev. Dr. Bob Roberts at Lutheran Towers in Orlando, Rev. Dr. and Mrs. Bob & Lorena Fisher at Penny Farms and Rev. Phil Miller at Church of the Beatitudes in St. Petersburg.  Over six dozen loyal members from around the state had the opportunity to hear first-hand the good news surrounding ministry and mission fields throughout the wider family of ABCUSA, our challenges and our hopes and our prayers. Taking charge of logistics was a new Florida resident and long-standing ABC Pastor and leader, Rev. Rosalie Norman-McNaney, ABCORI, Church Consultant.
Our "Humble Rancher," South Dakotan David Gnirk, gave a general outline of fundraising progress and the nationwide impact of Transformed by the Spirit (TbyS) in addition to entertaining Penny Farm attendees with his vocal style of a live auction during a time of after dinner fellowship. David is a member of several ABC Boards as well as the TbyS Development Team.  Dee Dee Turlington, also a member of the TbyS Development Team and resident of Florida, spoke about Roy Medley's recent appointment as Chair of the National Council of Churches (NCC). Rev. Dr. Turlington is well known throughout ABCUSA and beyond for her extraordinary New Testament theological prowess as well as participation on several boards and ABCUSA affiliated bodies, including immediate past president of the Ministers Council.  Many found it spiritually refreshing to hear from Dr. Medley of the impact our Lord is providing through TbyS.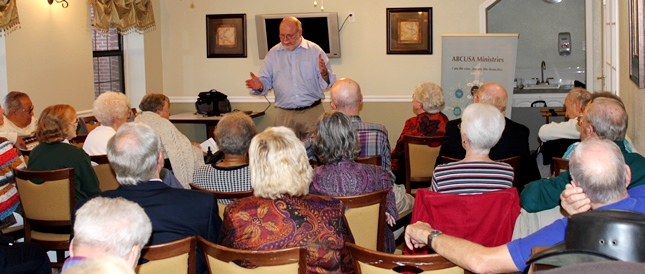 A first in Florida for ABCUSA, our hope and prayer is to provide personal forums for Florida residents including snowbirds intent on fostering fellowship, relationship building, updates and connections, as well as opportunities to personally meet with our General Secretary and other ABCUSA staff, like Ken Marsenburg, newly appointed Director of Development. For more information or to participate in future Florida forums please contact the Office of Development at (610) 768-2106 or email Evon Moody, Assistant to the Director of Development, at evon.moody@abc-usa.org.