VALLEY FORGE, PA (ABNS 12/12/13)—The first ever ABC Mission Table met November 11-13 at the Green Lake Conference Center/American Baptist Assembly in Green Lake, Wisconsin. Summaries from the learnings at the Mission Table and Mission Summit Conversations are now posted online, arranged by topic, on the ABCUSA website.
The Mission Table brought together representatives from American Baptist regions, affiliated ministry organizations, national staff, executives and officers, to join in conversation with one another to discern, listen and learn from one another. The ultimate goal of the Mission Table was that participants would make connections, hold valuable conversations, be enthused and advocate for some course of action regarding a topic that is relevant and urgent to their respective organization.
Visitors can now go to the ABCUSA website at www.abc-usa.org/missiontable and click on a link to any of the 32 topics discussed at the Mission Summit and Mission Table events to see the progression of conversations associated with that topic.
"If you would like to hear more about church planting, discipleship, alternative forms of pastoral leadership, or any of the other 32 topics discussed at the Mission Summit, just click on the link to see the entire history of that conversation," said Rev. Dr. C. Jeff Woods, associate general secretary for Regional Ministries, ABCUSA.  "We really hope that people will explore the insights, challenges, and proposed projects that are taking place and launch their own conversations and projects to further the mission of American Baptists everywhere."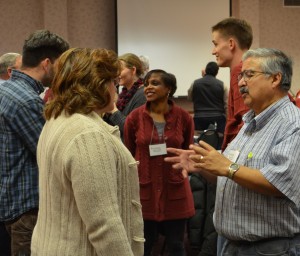 Regarding Mission Table participants, Woods said, "We are looking for continued action. We were intentional in asking that every participant commit to some form of action and/or advocacy that they take following the Mission Table."
During the final session of the Mission Table, some groups reported plans to work to make helpful resources available, while others planned to continue the conversation in online groups on Yammer, a social networking tool set up by event managers to aid in communication following the Mission Table.
"We had a very robust conversation around transformation and missional outreach. We have specific things we will be dealing with moving forward, coming directly from our conversation at the Mission Table," said Larry Swain, executive minister of American Baptist Churches of Ohio, following the Mission Table.
"We are beginning to put together a listing of some of the resources that people have found helpful in the area of transformation and missional outreach. We are going to look at sharing and making webinar contact with one another. We will look for examples of transformation and missional outreach that are happening in the local church, churches that can be examples. Churches both large and small. We would like to give churches of any size examples of what other churches are doing so that they can say, 'We can do this,'" said Swain.
"I was really impressed," said Katie Choy Wong, local church representative from the American Baptist Churches of the Central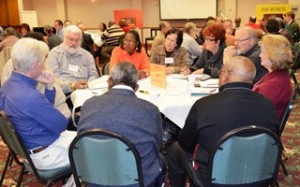 Pacific Coast. "I think the dialog around the tables was fantastic. We really worked through all the different issues, looking at how we can be advocates for these topics. The main thing we want to see is that the learnings that came out of the Mission Table really come to fruition before and at the next Mission Summit in 2015."
What is the Mission Table?
The 32 topics focused on at the Mission Table were originally discussed at Mission Summit 2013: An American Baptist Biennial Gathering, held in June 2013 in Overland Park, Kansas. Participants included persons from every region, seminary, and national agency (92 in all). The Mission Summit topics originally surfaced from work done through the Transformed by the Spirit (TbyS) initiative, which included a national survey as well as topics already being discussed by existing TbyS teams. In short, the topics at the Mission Table represent issues that American Baptists find both critical to their future work, but also challenging.
"The difference between the two is that at the Mission Table, there are concrete things that will come out of it," explained General Secretary Rev. Dr. A. Roy Medley. "A number of groups have made action plans and will be creating resources with tangible outcomes."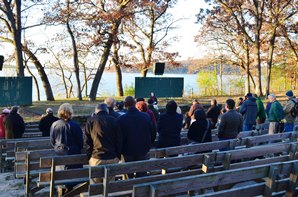 "For me, the biggest change as a result of Transformed by the Spirit is the sense of hope that is prevalent in the denomination. We are moving into the future! Whatever the future is that God has for it, we are going to move into it with faith and hope and joy," said Medley.

How can I learn more?
In addition to visiting www.abc-usa.org/missiontable, a webpage was set up in June 2013 to share learnings during the Mission Summit Conversations, to allow for an even deeper look into the conversations that have already taken place. Mission Table learnings have also been posted to the page. Visit the site at www.missionsummitconversations.com.
Read the first release about the Mission Table and quotes from attendees.
Read more about the  background of the Mission Table.
Learn more from the Mission Table Q&A.
American Baptist Churches is one of the most diverse Christian denominations today, with over 5,200 local congregations comprised of 1.3 million members, across the United States and Puerto Rico, all engaged in God's mission around the world.