VALLEY FORGE, PA (ABNS 11/14/13)—The first ever ABC Mission Table met November 11-13 at the Green Lake Conference Center/American Baptist Assembly in Green Lake, Wisconsin. The Mission Table brought together representatives from American Baptist regions, affiliated ministry organizations, national staff, executives and officers, to join in conversation with one another to discern, listen and learn from one another.
"The historic gathering of the first Mission Table was an experiment that exceeded our expectations," said Ruth Clark, president of American Baptist Churches USA. "The enthusiasm and energy of the participants was palpable as we met in Green Lake to delve deeper into the conversations begun at the Mission Summit/Biennial this past June. The ability to hear voices from all parts of our family was both challenging and rewarding."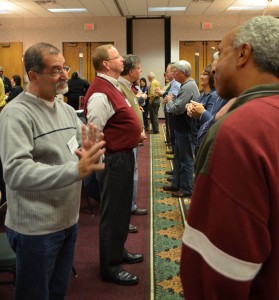 The ultimate goal of the Mission Table was that, in addition to important connections and conversations, each participant would be enthused about advocating for some course of action regarding a topic that is relevant and urgent to their respective organization.
"Finally, those conversations normally held on the parking lots have now been held in the church. The Mission Table experience was fantastic and fulfilling," said Dr. Paul M. Martin, president/CFO of American Baptist Seminary of the West in Berkeley, California.
The 32 topics focused on at the Mission Table were originally discussed at Mission Summit 2013: An American Baptist Biennial Gathering, held in June 2013 in Overland Park, Kansas. Participants included persons from every region, seminary, and national agency (around 100 in total).
The Mission Summit topics originally surfaced from work done through the Transformed by the Spirit (TbyS) initiative, which included a national survey as well as topics already being discussed by existing TbyS teams. In short, the topics at the Mission Table represent issues that American Baptists find both critical to their future work, but also challenging.
"As General Secretary I am excited at the new energy we are discovering through Transformed by the Spirit. The joy of this first Mission Table experience was seeing the creative results that occurred with Baptists from different parts of the family tackling
adaptive challenges together," said Rev. Dr. A. Roy Medley.
The Mission Table alternated times of worship with conversations, moving from topic to topic with changing groups of people involved in each discussion, creating a different group dynamic with each new group conversation.
"We are a denomination full of energy. During these conversations, we focused that energy on plans of action. I'm excited to see the fruits of these conversations over the next few months and years," said Rev. Katie Jo Suddaby, senior pastor of The Baptist Temple of Rochester, New York, who served as a local church representative for the Rochester Genessee Region.
A webpage was set up in June 2013 to share learnings during the Mission Summit Conversations, to allow for an even deeper look into the conversations that have already taken place. In the near future, Mission Table learnings will additionally be posted both on this site and also on the ABCUSA website, as a way of sharing these learnings with the greater community of American Baptists across the country and throughout the world. Visit the site at www.missionsummitconversations.com.
"I fully believe that these conversations will be continued. Technology and concern, along with new friendships, will guarantee that the connections from this event will extend into the future," said Rev. Ted Chaffee, regional representative from American Baptist Church of Maine. "I leave these days at the Mission Table with a sense of accomplishment, of hope for the future, and of joy in being in the forward-looking will of God. These conversations blended warmth, intelligence, humor and the presence of the Spirit that lifted and carried us all. God is surely at work among us."
As attendees planned to return to their homes on Wednesday, November 13, the promise of continued conversation was made evident as groups reported following their final conversations. Some groups reported plans to work to make helpful resources available to others, while others planned to continue the conversation in online groups on Yammer, a social networking tool set up by event managers to aid in communication following the Mission Table.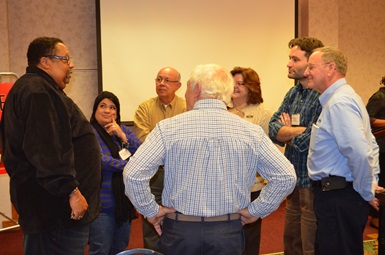 "This gathering was enormously encouraging. I found that our local challenges resonated with the experiences of others in other places across the country," said Jim Kelsey, executive minister of American Baptist Churches of New York State. "The Mission Table was a hopeful time. We assumed that God is active in our world and committed to a process of discerning where God is going and aligning our efforts with God's movement."
Watch for more information on the Mission Table, coming soon.
Additional quotes about the Mission Table:
I was thrilled to witness how hard people worked together to make this mission table experiment work. The energy and cooperation exceeded my expectations. An abundance of thanks to the planning team, which included Ruth Clark, Judy Allbee, Perry Hopper, Dwight Stinnett, and Marilyn Turner.
– C. Jeff Woods, Associate General Secretary for Regional Ministries and Mission Summit Staff Planner
I want you to approach the Mission Table as an experiment. Let's enjoy the freedom of these tables to find ways that we can link with one another to find ways in which we can look at common goals. One reason we come together as the Mission Table is the Transformed by the Spirit initiative, an active part of the life of the denomination. We all know that our relationship with our culture as the church is so different today than it was 20, 30, 40 years ago. How do we look at ways to dream the church in new ways? Let's find a place where we can come together and dream dreams, and act together, for the sake of the work which Christ is calling us together for here today.
– A. Roy Medley, General Secretary of American Baptist Churches USA
The Mission Table gathering has been great fun. The Holy Spirit was given free reign to move through our conversations this week. I have enjoyed learning, sharing, debating, praying and worshiping with old and new friends.
– Ben Mott, President/CEO of the Green Lake Conference Center (GLCC)/American Baptist Assembly
Upon arrival, I knew absolutely no one—my Executive Minister was ill. But I leave here feeling connected to so many American Baptists who share the same passions and struggles and commitments that I do. As a pastor, there are always areas where I sense God is moving at work. To have the chance to hear from others and feel the synergy and verve of others in ministry is a blessing and provides the affirmation and healthy discernment that only the Spirit can send. I leave here knowing more clearly that God is at work and guiding me. The Mission Table experience was unlike anything I've ever experienced at a conference. I leave here affirmed, connected, and assured of the work of American Baptists.
– Cynthia Turner, local church representative from Washington, D.C.
I value the opportunity to connect with other American Baptists around the country and make new friendships. I benefit from learning stories of what the Lord is doing in other ministry settings. The Lord spoke to me about unexpected things in table conversations.
– Nathan Brooks, local church representative from American Baptist Churches of Indiana/Kentucky.
We were a part of something historic today in our American Baptist family. An opportunity to gather together as representatives of regions, affiliated ministry organizations, staff, executives and officers, to spend time together discerning, learning, listening and experiencing the transformative power of God in our midst.
– Ruth Clark, President of American Baptist Churches USA
Personally there are a lot of things I've learned at the Mission Table that I would like to use at home. I participated in conversations that were very helpful at the personal, regional and national level.
– Rosemary Oaks-Lee, local church representative from American Baptist Churches of New York State
What I liked about the event was the smaller setting, which allowed for more personal discussion. I will take home with me is that more important than saying you are a multicultural church, you have to be a multicultural church. The Mission Table was a great follow-up to the Mission Summit.
– Shawna Simmons, President of American Baptist Churches of Greater Indianapolis
Read more online at www.missionsummitconversations.com through current posted summaries of learnings, and also following the Mission Table, as once again American Baptists engage in mission and ministry.
Read more about the background of the Mission Table.
Learn more from the Mission Table Q&A.
American Baptist Churches is one of the most diverse Christian denominations today, with over 5,200 local congregations comprised of 1.3 million members, across the United States and Puerto Rico, all engaged in God's mission around the world.