Pastor Bob Ballance at Pine Street Church in Boulder (ABC Church) reports that groups from American Baptist Church in Fort Collins, Colorado, the First Baptist Church in Atchison, Kansas, and the church Balance pastors, Pine Street Church (formerly First Baptist Church) of Boulder, Colorado, have worked together in early relief efforts.
Balance and others have been coordinating disaster relief efforts in Boulder,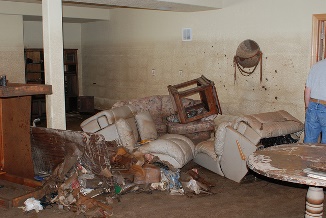 calling for teams and donations from around the country. Photos from their response can be seen below.
American Baptist Churches has released $10,000 in One Great Hour of Sharing disaster relief funds through American Baptist Home Mission Societies (ABHMS) to American Baptist Churches of the Rocky Mountains.
Donations designated to "One Great Hour of Sharing—Colorado Flood" can be made online or by mail: click here for more information. One hundred percent of donations go to relief efforts; no dollars are retained for administrative costs.
Read our recent Press Release: American Baptists Respond to Colorado Flooding
News from the Associated Baptist Press:
Baptists Gearing up in Colorado
Colorado Church Faces Flooding