VALLEY FORGE, PA (ABNS 8/1/13)—
The Conference for Church Musicians, sponsored by The Fellowship of American Baptist Musicians, was held the week of July 13-20, 2013 at the Green Lake Conference Center in Green Lake, Wisconsin. The conference brings together approximately 300 musicians from various denominations throughout the United States and beyond. This year's event was the 49
th
annual conference, and through the years it has grown to encompass tracks for adult choral, youthand children's choral, instrumental, handbells, organ, piano and a variety of workshops and reading sessions. The theme for this year was "Our Life in Worship, Our Life in the World."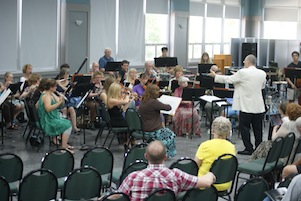 Clinicians included Robert Hobby, adult choral; Tim Waugh, youth choral; Vicki Hancock Wright, children's choral; Anna Laura Page, hand bells; Jeremy Bankson, organ; Jan Corrothers, piano; Ernest Gross, instrumental and Marty Haugen, worship.  Music reading sessions were provided by some of the major music publishing companies such as GIA, Lorenz, Augsburg, Hope, Shawnee, Beckenhorst, Choristers Guild and Morning Star.  The week featured six major concerts presented by the clinicians for organ and piano, youth and children's
choir, orchestra and closing celebration featuring the adult choir, withparticipation by the Young Adult and Youth Choirs.  The conference leadership was especially pleased this year to note that there were 50+ first time conferees in attendance.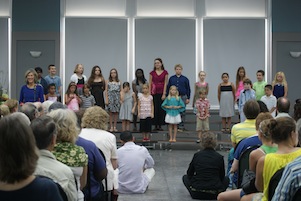 The Fellowship of American Baptist Musicians was especially honored to have Rev. Dr. Leo Thorne, associate general secretary for Mission Resource Development, American Baptist Churches USA, as a special guest.  Dr. Thorne brought the messages during worship services on Sunday and Monday.  Past board president, Rev. Carol Teare, has worked diligently to strengthen The Fellowship's connection to the wider denomination, and we hope to continue to expand upon this cooperative spirit in the coming years.
The Conference is planned and coordinated by an all-volunteer board with members currently from Indiana, Kentucky and Wisconsin.  Joyce Crowder, who serves as the minister of Music at The First Baptist Church in Columbus, Indiana, has served as executive secretary since 2007.   The in-coming board president is Rev. Steve Newman, associate pastor at The First Baptist Church, Terre Haute, Indiana.
The first Conference for Church Musicians was held in the summer of 1965 , following the formation of The Fellowship of American Baptist Musicians in February of 1964.  Those involved in the formation of the fellowship included Jet Turner, Kenneth Cober, Bill Robinson and Roger and Wilma Wirschmeir, all of whom were very active in American Baptist life a generation ago.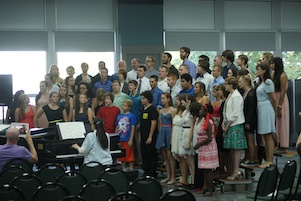 The 2014 Conference is scheduled for the week of July 12-19 and will include clinicians David Schwoebel, Stanley Roberts, Debbie Rice, Michael Graves, Catherine Rodland, and Molly James.  Information concerning membership in the Fellowship of American Baptist Musicians or about next summer's conference is available at the website
www.fabm.com
and on the FABM Facebook page.
American Baptist Churches USA is one of the most diverse Christian denominations today, with over 5,200 local congregations comprised of 1.3 million members, across the United States and Puerto Rico, all engaged in God's mission around the world.