VALLEY FORGE, PA (ABNS 7/8/13)—General Secretary Roy Medley and a group of about 15 American Baptists joined more than 400 Baptists from 40 different countries at the Baptist World Alliance (BWA) Gathering in Ocho Rios, Jamaica, July 1-6. 
"These BWA Gatherings give us a splendid opportunity," said Medley, "to experience God's mighty works among Baptists worldwide, and our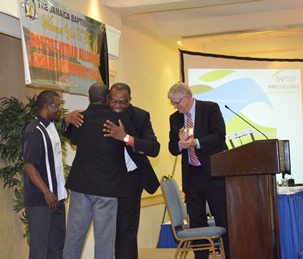 Jamaican sisters and brothers made us feel quite at home on their beautiful island."
On the evening of Tuesday, July 2, Governor General Sir Patrick Allen welcomed the hundreds of Baptists leaders, theologians, teachers, pastors, and other lay representatives at the Roaring River Great House, a former plantation, a few miles from the convention hotel.  The delegation was treated with authentic Jamaican cuisine, steel band music, and folk and contemporary dance performances by youth from Jamaican Baptist Churches.  Government Minister, Natalie Neta-Headley, read a message from Prime Minister Portia Simpson Miller.  All the government officials recognized  Baptists, including Jamaican Baptists, for their long commitment to freedom and justice issues and encouraged Baptists to continue to exert  positives influences on people's lives.  Special mention was also made of Jamaican Neville Callam, BWA's General Secretary, for his historic role in being the first person from the Caribbean to lead the worldwide body of Baptists.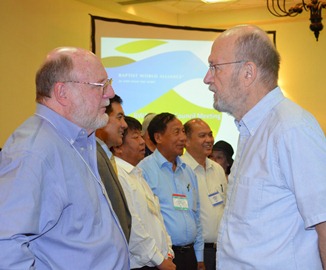 American Baptists participated in the BWA Gathering in a variety of ways.  Among other roles, they were speakers during worship services, presenters of papers during sessions, and representatives on BWA's commissions and committees.  American Baptist Glen Stassen, longtime peace activist and the Lewis B. Smedes Professor of Christian Ethics at Fuller Theological Seminary in California, was presented with the 2013 Denton and Janice Lotz Human Rights Award.  Stassen,  who whose advocacy is felt well beyond Baptist circles, expressed that he was delighted to be the recipient of this prestigious BWA honor and said that "the first comprehensive document on human rights was published in 1647, and my goal is to deepen the knowledge of Baptists in this significant issue of human rights, which is grounded in God's love for all people in Jesus Christ."
The General Council, the governing body of the BWA, received 5 new organizations into BWA membership.  They were: The Baptist Mission of South Haiti, the Connection of Haitian Baptist Churches for Integral Mission, the Turks and Caicos Islands Baptist Union, The Baptist Church of Congo in the Democratic republic of Congo, and the Convention of Independent Baptist Churches from Brazil.
The General Council also passed a number of resolutions: one calling for the U.S. government to lift the Cuban embargo, one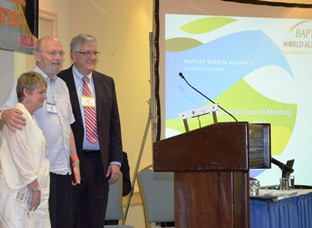 advocating for the protection of children from sexual abuse, one calling for the recognition of stateless peoples, an area in which American Baptists are taking a leading role.  In addition the General Council  also ratified unanimously  Principles and Guidelines for Intra-Baptist Relationships, a document laying out assumptions on which the 228 BWA member organizations in 120 countries are conducted.
The BWA, made up of 223 Baptist organizations and 42 million baptized believers, is a global movement of Baptists sharing a common confession of Faith in Jesus Christ, bonded together by  God's love, to support, encourage, and strengthen one another while proclaiming the living  Gospel of Jesus Christ by the power of the Holy Spirit before a lost world.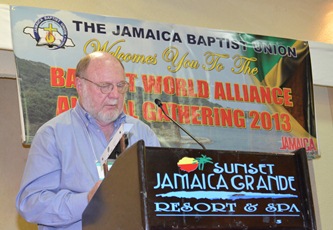 "While the sessions were held in Ocho Rios, a lovely part of Jamaica, the real piece of paradise was the time spent with fellow Baptists from around the world, allowing us time and opportunity to renew relationships, rejoice in partnerships, and hear what God is doing in and through Baptists from so many different areas of ministry," said Ruth Clark, president of ABCUSA. "God is doing some wonderful, remarkable things, and we are blessed to be part of the kingdom work."
Click here to view more photos from the event.
American Baptist Churches is one of the most diverse Christian denominations today, with over 5,200 local congregations comprised of 1.3 million members, across the United States and Puerto Rico, all engaged in God's mission around the world.