"Rhythms of the Spirit" is a retreat that will be taking place at Green Lake Conference Center, August 5-9, 2013. Rev. Jeff Savage, pastor of the First Baptist Church of Springfield, Oregon, will be the keynote speaker at the conference, leading attendees in finding a balance in their daily lives. The following is his reflection includes his hopes for what attendees of the event will experience in August.
"Be still and know that I am God." – Psalm 46:10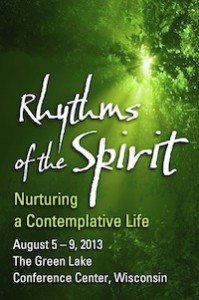 "Do you struggle for balance between prayer and activity?"
This question, which sits atop the "Rhythms of the Spirit" website, is an invitation. Yes, to the conference, but most importantly, by it we are each invited into honest reflection and prayerful examination of the rhythm and balance of life in the Spirit "playing out" in our lives. I will tell you: it has served to do this in me!
"Do you struggle for balance?"
Yes. In fact, I recently awoke to the awareness that I had lost my balance. It was a loss that had developed gradually, as one "yes" followed another, this good work was added to that, and one more meeting was scheduled after another (there is, after all, always more to do in the name of God). And so it was that, as the calendar filled and the tempo of the days accelerated, the healthy rhythms of my life were overwhelmed by the noise and pace of what Henri Nouwen once called "many-ness and much-ness."
What was it that fostered this awakening in me? It was an intentional time of silence and solitude . . . a scheduled stopping and stilling . . . days of paying attention. For, even as my daily rhythms eroded, the structure of my larger life and ministry is built around a rhythm of engagement and sabbatical. Thus, according to the calendar, by the grace of God, and due to the wisdom of the faith community I serve, it was time to be still.
"Be still and know . . ." It was a gentle rising, birthed by the Spirit in a seemingly unrelated collection of moments occurring over the course of the month. I observed a group of swallows dipping and diving, and then resting between performances. I began to watch our resident hummingbird (the epitome of perpetual motion, right?) return repeatedly to the same spot on a power line to cease all activity and simply sit. And he does so every day. And then, grace upon grace, I found myself cradling my newly-born granddaughter in my arms; wondering over her, looking into her eyes, and absorbing the essential truth: this is what it means to receive and rest in love freely outpoured . . . Now I am well on the way to finding a new rhythm, guided by the Spirit and accompanied by faithful companions on the way.
In "A Hidden Wholeness," Parker Palmer likens the soul to a wild animal that emerges only as we "walk quietly" and "sit patiently." I understood this the day a doe and her yearling appeared within yards of where I sat in silence and solitude. I believe the same is true and necessary for discerning the rhythms of the Spirit. The turn – or return – to a Spirit-guided rhythm is accomplished by the ceasing of the arrhythmia that so easily becomes our norm. In the space thereby created, the Spirit invites honest reflection and guides us into places of fresh rhythm and new balance.
The psalmist reveals that deep relational knowing is nurtured in stillness. It is for this reason that the "Rhythms of the Spirit" conference is being created and offered. I encourage you to join me for this time set aside for syncing our souls to the ways of the Spirit. Balance doesn't need to be a struggle.
Jeff Savage
Pastor, First Baptist Church of Springfield, Oregon