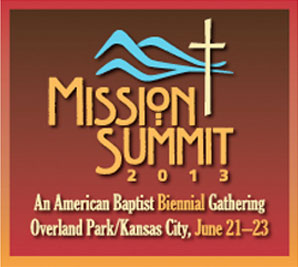 As a pastor, I've sat through MANY a denominational gathering over the years (Southern Baptist, Cooperative Baptist, Alliance of Baptist, Progressive Baptists, National Baptists, and American Baptists) and as executive editor of Baptists Today, I covered many a Baptist event, but NEVER have I felt what I felt tonight, being present for ABCUSA's Missions Summit in Overland Park: I heard the names of Adoniram and Ann Judson, Abe Lincoln, Walter Rauschenbush, Martin Luther King Jr, Edwin T. Dahlberg, all mentioned; I saw and heard white women and men, youth and children, African Americans, Native Americans, Latinos, Burmese – and many others – worshiping God together. And then we heard Michelle Alexander.
WHAT A PRIVILEGE!  Many thanks to you and to the many others who had a part in making this evening – and the rest of our Missions Summit – what it is and will be.
Yesterday I heard Don Everts, as he spoke to our ABCUSA region staff: Don said, "I feel tremendous hope about mainline Protestantism."  After this evening, so do I!!
Bob Ballance, pastor
Pine Street Baptist Church of Boulder CO