Dear colleague in ministry,
The demands of ministry are many. Every week, you wrestle with competing needs and varied expectations. In spite of your best efforts, there are times that a deadline comes more quickly than you imagined.
This is why I write to remind you that, if you have not registered, we need your online registration for the 2013 Mission Summit/Biennial by May 31, 2013.  Hotel rooms are filling.  May is going to fly by!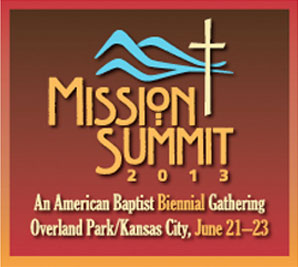 Why not stop reading and start registering? You can use either of two web addresses: www.americanbaptists2013.org or www.americanbaptists2013.com.
The Mission Summit/Biennial, June 21-23,2013, will be historic, literally. We are celebrating multiple anniversaries as American Baptists: 375 years since the founding of the First Baptist Church in America, 200 years since our first international missionaries Ann and Adoniram Judson landed in Burma, and 150 years since the signing of the Emancipation Proclamation. To say that your worship will be enriched by two 200-voice Burmese-American choirs, international guests, and challenging speakers is just to hint at all that God has waiting for you.
The heart of what you will experience at this biennial gathering will be interaction with colleagues and friends from across the country. The Mission Summit Conversations will provide time for colleagues and church leaders to "think out loud" about the new ways God is calling us to be the church in the 21st century. You will be able to share your ideas and hear from others about their experiences and hopes.
I look forward to seeing you in Overland Park. Please register today. Remember that once your church has registered, your individual registration costs will be greatly reduced. If you know a colleague that still needs to register, please pass the word.
Thanks and blessings,
Reg Mills
Chair
2013 Mission Summit Biennial Planning Team