fostering ongoing, vigorous theological conversations among American Baptist theologians, pastor-theologians, and theological educators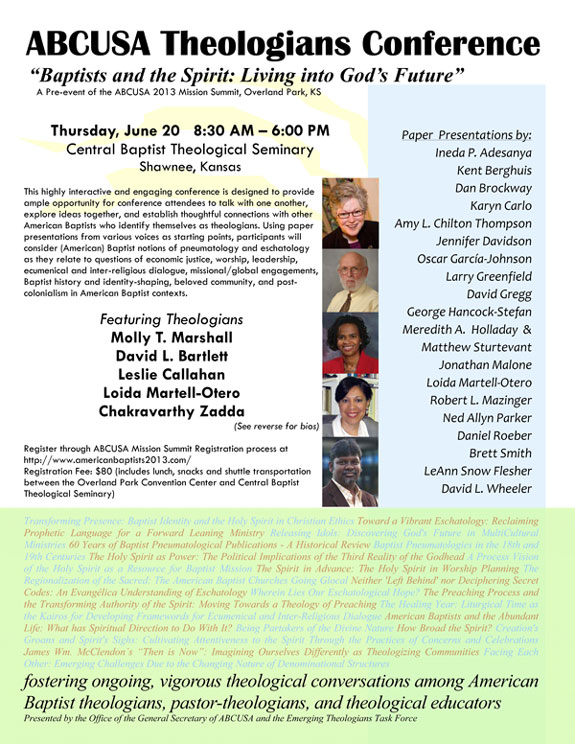 Theme: "Baptists and the Spirit: Living into God's Future"
Date: Thursday, June 20   8:30 AM – 6:00 PM
Location: Central Baptist Theological Seminary (approx. 20 mins from Convention Center)
DOWNLOAD THE FLYER
This highly interactive and engaging conference is designed to provide ample opportunity for conference attendees to talk with one another, explore ideas together, and establish thoughtful connections with other American Baptists who identify themselves as theologians. Using paper presentations from various voices as starting points, participants will consider (American) Baptist notions of pneumatology and eschatology as they relate to questions of economic justice, worship, leadership, ecumenical and inter-religious dialogue, missional/global engagements, Baptist history and identity-shaping, beloved community, and post-colonialism in American Baptist contexts.
The conference will also feature an opening plenary presentation by Molly T. Marshall, President of Central Baptist Theological Seminary, and a closing plenary session with esteemed panelists:
David L. Bartlett, Emeritus and Distinguished Professor of New Testament at Columbia Theological Seminary
Leslie Callahan, Pastor, St. Paul's Baptist Church, Philadelphia
Loida Martell-Otero, Professor of Constructive Theology, Palmer Theological Seminary
Chakravarthy Zadda, PhD Candidate, Chaplain and Coordinator—International Student Affairs, Lutheran School of Theology at Chicago
Registration fee includes shuttle transportation from the Convention Center to Central Baptist Theological Seminary, lunch, and snacks.
Presented by the Office of the General Secretary of ABCUSA and the Emerging Theologians Task Force
Our Mission
to place theological reflection at the heart of our denominational life;
to establish a stronger public theological voice from American Baptist perspectives;
to provide opportunities for American Baptist theologians and theological educators to know who we are so we can work together and support one another;
to help re-establish stronger connections between the denomination and her seminaries.