Loving our neighbors as ourselves is the opposite of bullying.
The Youth for Youth program, based out of Greenville Baptist Church in Greenville, RI, is addressing the problem of bullying directly.  Their mission is "to support and create youth developed and facilitated programs that educate and inspire youth to combat intolerance, bullying and violence, including date violence."  In partnership with their local Home Depot, they have created a series of Living Murals to tell the stories of bullying and inspire dialogue. These integrated murals use monologues written by victims to foster empathy for all involved in the tragedies of bullying. They also develop community among the young writers, actors and visual artists involved.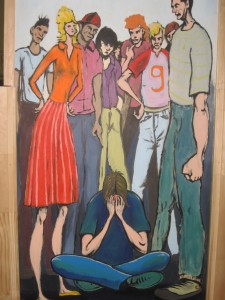 Greg Rubano, a retired teacher and former Rhode Island Teacher of the Year finalist, directs the group.  He hopes that the murals will travel the state to churches, Y's, schools and similar venues. One presentation will be inside Home Depot. Rubano sees the mural presentations as high visibility community building events worthy of support by foundations, businesses, and concerned individuals. He is currently directing the Living Murals creation at Trinity Academy for the Performing Arts (TAPA), a charter school in inner city Providence.
Youth for Youth was created in response to the inspirational leadership efforts of RETHINKIT, whose mission is to address issues of youth violence.  Originally funded in 2010 by a grant from American Baptist Churches of Rhode Island, RETHINKIT is a youth facilitated ministry coming out of South Providence Neighborhood Ministries.  Last year alone, RETHINKIT statewide presentations were heard by over 4,000 youth and their families and leaders.
Many of the RETHINKIT presentations are done for free, and so both groups need to find support to pay for costs. This year, as they did last year, the two groups are coming together to co-sponsor a bowling fund-raiser, "We Must Step Up Now," which will also include a tribute to the Newtown victims.
Youth for Youth is intentionally non-sectarian and open to all.  The problems and consequences of violence pervade all areas of our communities, and should be addressed by a broad spectrum of the community. In fact, as the program has grown, it has expanded its reach beyond high school students to also include young adults in the 18-29 year old age range and older adults, including grandparents. Some have not been in a church since they were children. Interestingly, the group is considering renaming itself All For Youth.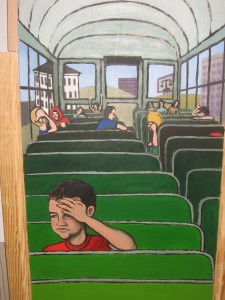 Some of the members are survivors of bullying; all have a passion for helping others.  All agree that the response to violence must be action.  Youth for Youth provides a model of commitment and hope on the part of the youth themselves. Attempting to defuse violence by promoting an understanding of the methods and desperation of those who bully, the group seeks to give the victimized the voice they deserve.
Rubano often quotes Mother Teresa: "If we have no peace, it is because we have forgotten that we belong to each other."
Initiatives such as Youth For Youth show the love of neighbor that God requires of us all.
"Greenville Baptist Church, which houses Youth For Youth, is a wonderful mission driven church dedicated to peacemaking and community building. The church members, the Mission Board, and Pastor Wendy have been inspirations to all of us," said Rubano.