Rev. Dr. Leo S. Thorne, associate general secretary for Mission Resource Development for American Baptist Churches USA (ABCUSA), has been serving on a Working Group for the State Department. This story is a transcript of an interview done by Bridget Holmstrom, web manager/communication specialist for ABCUSA, about Thorne's involvement with the State Department.  

Holmstrom:  Leo, Last year you participated in an initiative at the U.S. Department of State in Washington, D.C., what was that all about?
Thorne:  I was invited to be part of a Working Group of religious leaders to be involved in conversations surrounding the Secretary's Strategic Dialogue with Civil Society.
Holmstrom:  Could you be a little more specific about what this Working Group was assembled to do?
Thorne:  Yes, I will be happy to do so.  Secretary of State Hillary Clinton launched the Dialogue in February 2011 to elevate the U.S. engagement with partners beyond the state and to build a framework for civil society's involvement in policymaking.   In other words, the State Department desires to initiate continuing dialogue with religious leaders and other members of civil society that informs U.S. foreign policy and foster common partnerships with the NGO community. 
Over the past year, civil society has played a critical role in events around the world, and the Dialogue has provided a model for how governments and civil society can work together to shape policy and advance the common good.  It was made clear to us that the Strategic Dialogue was designed to elevate the importance of the U.S.  Department of State's work with civil society and underscore the Department's commitment to protect and defend civil society around the world.  This was an unprecedented step by Secretary of State Clinton of organizing a Religion and Foreign Policy Working group in her Strategic Dialogue with Civil Society.
Holmstrom:  How many groups were formed?
Thorne:  There was one large Working Group of over 100 persons.  Then there was a sub-division into five smaller Sub-Groups.  I self-selected to be a member of the Sub-Group on Religion and Foreign Policy.
Holmstrom:  Was this the only division of the group?
Thorne:  Approximately twenty-five civil society leaders (20 domestic/5 international) were invited to comprise the Core Group of the Working Group on Religion and Foreign Policy. This core group was designed to provide guidance for the four other thematic sub-groups, which were created to address specialized issues.
Holmstrom:  What were the names of the four thematic sub-groups you mentioned?
Thorne:  These groups were identified as Religion in Foreign Policy and National Security; Religious Engagement and Conflict Prevention/Mitigation; International Religious Freedom: Advocacy to Combat Religious-Based Violence and Human Rights Abuse; and Faith-Based Groups and development and Humanitarian Assistance.
Holmstrom:  Was there any involvement from the White House in the Working Group? If so, who was involved?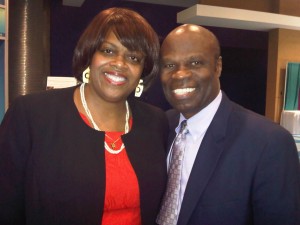 Thorne:  The Working Group was co-chaired by Under Secretary of State for Democracy and Global Affairs Maria Otero; Ambassador-at-Large for International Religious Freedom Suzan Johnson Cook; and Joshua DuBois, Special Assistant to the President and Executive Director of the White House Office of Faith-based and Neighborhood Partnerships. This group was designed so that its members would sit on the Federal Advisory Commission, which will receive and make decisions on the final report of the Working Group. 
I should add that in October of 2011 there was an Opening Plenary at the Department of State when all the groups involved in this undertaking came together to learn of the purpose, timelines, direction and future of its deliberations.
Holmstrom:  Where did you meet over the course of your meetings? Did they take place at the Department of State?
Thorne:  There were a couple meetings in different rooms of the State Department, and group members were invited to host meetings outside Washington.  These so-called "field trips" would allow for Department of State officials to meet in authentic settings and hold conversations with key people in those host areas.  During the year and a half of the meetings of the Working Group, some of the members were invited to attend a Global Town Hall Meeting hosted by Secretary of State Hillary Rodham Clinton.  This meeting, which I attended, was held at the Benjamin Franklin Room of the Harry S. Truman Building.  Let me quickly add that ABCUSA proudly hosted the Sub-Group on Religious Freedom at our Valley Forge, PA offices in April, 2012.
Holmstrom:  Yes, I remember that meeting at the Mission Center in Valley Forge.  Can you give me some details and explain what was discussed, for those who might not be familiar?
Thorne:  The meeting was held on April 17, and General Secretary Roy Medley welcomed the g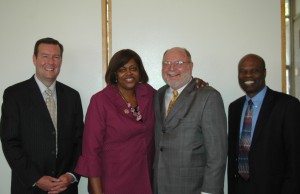 roup to the Mission Center.   Sub-Group Co-Chairs, Dr. Chris Sieple, Working Group Senior Advisor and president of the Institute for Global Engagement and Ambassador Johnson Cook, were among other State Department officials present for the day-long meeting, in addition to persons from ABC.  As hosts, ABC was invited to give a presentation on Burma in which the denomination had established missionary work through the Judsons since 1814.  American Baptists Rev. Saw Ler Htoo, pastor of Calvary Baptist Christian Fellowship in Washington DC, Rev. Florence Li, director of Asian Ministries at American Baptist Home Mission Societies (ABHMS), and Rev. Rothang Chhangte, then ABHMS liaison for Burma refugees, addressed the issues for Burmese immigrants in other Southeast Asian countries. They urged the committee to consider the question, "how can we work on this issue, and work together to make changes for the immigrants?"
Attendees heard from and interacted with one another on topics including the challenges faced by refugees in Burma and in the United States, their legal status, lack of education and employment, medical care, forced displacement of minority religious and ethnic groups within Burma, attacks by the military on some churches in the Kachin State, censorship of certain words in the Christian text, and lack of access by non-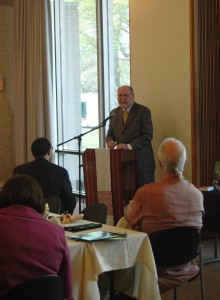 Buddhists to government jobs, among other topics. 
This Valley Forge meeting represented another important piece of ABC's strategic involvement with the Department of State and the White House on issues involving Burmese refugees.  The Board of General Ministries and the General Secretary have sent official letters on separate occasions to President Obama and Secretary Clinton soliciting their positive action with regard to the plight of refugees in Burma.
(View the Press Release  from April 2012, written about the meeting at the Mission Center)
Holmstrom:  What do you believe to be one of the greatest challenges that faced the Sub-Group on which you served?
Thorne:  On several occasions, the group mentioned the point that they had served on different task forces, focus groups, community forums, and the like, only to have a report placed on the shelf without any meaningful action and follow-up taken as a result of serious work.  The group was concerned that its work would suffer the same fate.  Another issue was the uncertainty about the results of the 2012 Presidential elections and a possible change in leadership.
Holmstrom:  How did the Department of State address these concerns?
Thorne:  On the latter point, there could be no forecasting of the results of the election.  On the former point, the group was assured that the Department of State was committed to seeking ways to  make as soon as possible any implementable policy changes that were appropriate, even before the final report was submitted.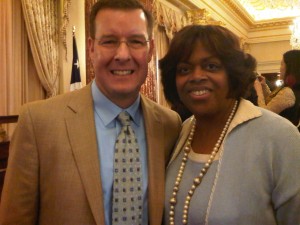 Let me add that as the word regarding this innovative strategy of involving civil society in government policy shaping spread, several other countries began conversations with the U.S. Department of State on ways of adopting this creative idea into their own governmental workings.
Holmstrom:  I know that some matters like these involving government policies at such a high level have to be handled with some measure of diplomatic caution.  But can you point to a specific example of what some of the deliberations might accomplish?
Thorne:  Let me just say that the U.S. Department of State began taking a hard look at how its foreign staff was being trained as they readied themselves to work abroad, given the pervasive influence of religion worldwide.  In many places around the world, understanding religion is imperative to understanding the local civil society.  Four out of five people on the planet believe in something greater than themselves. Accounting for and systematically engaging the role of religion and religious communities in societies worldwide not only shows respect for the local population, but it also provides a touchstone of insight across all of society's spheres and sectors, suggesting the potential for understanding and collaboration.  We could, therefore, point to revision in the curriculum offered to State Department staff officials, making more comprehensive training in religious issues more of an imperative.
Holmstrom:  Can you share something about what were some of the issues addressed in the final report of the Working Group?
Thorne:  Just briefly, let me say that it was a significant opportunity to come together with other religious leaders from across the country, and the world, for that matter, and engage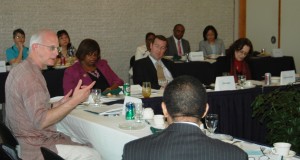 ourselves in  important matters surrounding religion and religious liberty on the global stage.    As American Baptists, we have been on the forefront of working with Religious freedom as one of our core ministries. 
The final report presented to the Federal Advisory Committee involved matters concerned with the need to allow some version of the Religion and Foreign Policy Working Group continue as an advisory committee.  It was interesting for the Sub-Group members to learn that while the White House and 12 executive branch U.S. government departments have offices for faith-based engagement, the Department of State does not.  In addition, the report offered that the Department of State should institutionalize a mechanism that serves religious communities worldwide.
Holmstrom: Is there anything else that you would like to add following this experience service on the Department of State Working Group?
Thorne: Religious freedom has always been and continues to be a central issue for us as American Baptists.  As such, it was a privilege to  serve as an ABC staff person with such a broad community of religious leaders from around the world  on such an important matter.  The experience was a good one.  I must also add that  we continue to be grateful to Ambassador Johnson Cook, one of our own ABC clergypersons, for her work on our behalf.  It is my hope that the U.S. Department of State will continue to prioritize this innovative approach of engaging civil society in its policy formation on religious issues.
Holmstrom: Thank you for meeting with me and answering my questions about this important Working Group project.