Thanksgiving is an important time for the volunteers and guests of the Mission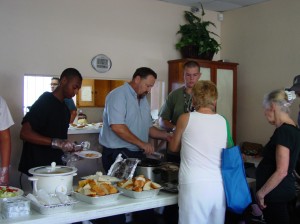 Outreach Project in Desert Hot Springs, CA.  This dedicated group has been gathering at Thanksgiving for 16 years in a special celebration of the meal service provided regularly to the homeless and needy people of Desert Hot Springs.  Last year over 500 people were fed.
As Mari Muckey, director, reports, "In the months since January 2011 we have cooked and served over 18,000 hot meals to the homeless and needy of our community. That may not sound like a lot compared to big organizations, but for our small faith-based group, it means that there are too many homeless, elderly, families and children on the streets.  We have never had any money but since God put us on this path to be the hands and feet of Jesus, God has kept us supplied. Every day we have seen miracles.  Many times I have opened my door and found bundles of food or clothing that someone has dropped off for us.  On the days we serve dinner, many times someone will come to me with a bag of food to use in my cooking.  This is coming from our people that have very little to share.  But share they do.
"At Mission Outreach we have used the food and clothing to reach out to the lost and lonely.  The Bible tells us of the many times Jesus used food the same way.  I am blessed to see those who first come to God's Kitchen for food, then come to church and sit with us.
"We have seen many changes over the years. Some have been good and some not so good. We began by handing out government food supplies and cooking an evening meal on Sundays.  What good does it do to hand out government beans and rice if they have no place to cook? If you do not have a home where can you wash the clothes, take a shower, brush your teeth and feel safe for a little while, what do you do? I believe that all of God's children deserve that right. 
"In providing a hot meal we provide both food and good company. We give our guests the opportunity to socialize and form friendships.  One thing I am very proud of: we have never had to call the police in 20 years. We serve all kinds of people. People from prisons, the streets, the very poor, the homeless, the elderly, the lonely, addicts and the just plain hungry are all welcome.  I have never heard a curse or an argument.  I have seen many come to church and sit with me. I have had people tell me 'thank you, God bless you.'  I have seen people cry with gratitude or cry tears of despair.  I have had some ask for prayer.  I have seen the homeless form a circle holding hands and saying the Lord's Prayer.  I have heard people tell me we are their family.  This is what Mission Outreach is all about.
"From our beginning, people from all walks of life have volunteered their time and talents. I could not accomplish what we have without the love and support of my friends and family of kids and grandkids. In addition, I have my whole other family of volunteers and supporters of Mission Outreach.  Volunteers are our life blood and our biggest asset. They reach out with their hands and touch hearts. We have only one rule. When you join us as a volunteer you are told, 'Everyone is to be treated with respect and kindness.' It does not matter if they have holes in their shoes. It matters not if their clothes are dusty and worn, or if they have no shirt at all. We can provide them with the food and clothes they need. But most of all we can provide them with the comfort of our family.  Along with food we can dish up a human connection and spiritual sustenance.  We have a mission field right here in the desert.  Many souls have been through their own stormy weather.  Our goal is to help them find that special place where they can believe that Our Father wants their days to be warm and sunny.    We do not pretend to know all the answers. But we can offer them a hot meal, clothing, friendship, our love and a hug."