Live Simply, based on Philippians 4:11, is the theme for just-released stewardship resources published by the Ecumenical Stewardship Center.
The Ecumenical Stewardship Center offers resources that together provide a creative, comprehensive, and thought-provoking approach to encourage faithful stewardship that leads to generous giving. Live Simply is the second of four planned themes that focus on 1 Timothy 6:18-19 and the phrase "take hold of the life that really is life."  Live Simply includes four sub-themes: Live Simply, Follow Jesus; Live Simply, Face the Truth; Live Simply, Act Together; and Live Simply, Share Enough.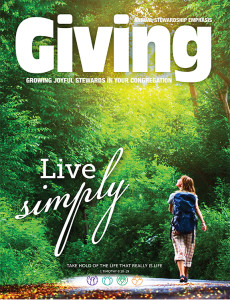 A theme magazine, Giving, is available. Theme materials complement the magazine and center section, and help congregations create a stewardship emphasis that is recognizable and consistent. Theme materials include a poster, bulletin inserts, letterhead and envelopes, bookmarks, bulletin covers in two sizes, commitment cards for adults and children, and a series of four 90-second "worship starter" videos with one for each Live Simply sub-theme. Want to preview print materials before buying a quantity? Purchase a Sample Packet, or a Sample Packet PLUS (includes a copy of the magazine at a more than 50% savings over the retail price).
Visit the Ecumenical Stewardship Center store to purchase the magazine and theme materials.