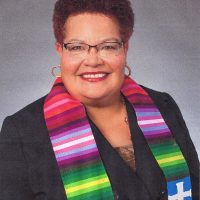 Rev. Michelle Nickens serves as Vice President of American Baptist Churches USA for the 2022-2023 Biennium. She is the pastor of Washington Plaza Baptist Church in Reston, Va., where she has been servant leader since 2016. As a pastor, author, activist, playwright and actor she uses the liberating power of storytelling, drama, and the creative imagination as instruments of healing and empowerment. Rev. Nickens is a member of the Steering Committee of Va CURE (Clergy United for Racial Empathy), an interfaith organization that creates opportunities for clergy and congregations to engage in dialogue across racial lines, educate themselves about the history of race in Virginia, and become more engaged in activism.
Prior to her call to Washington Plaza Baptist, Nickens served as Associate Minister and Director of Adult Education Programs at Metro Baptist Church/ Rauschenbusch Metro Ministries in New York City. There she coordinated and facilitated empowerment programs for domestic violence survivors and their children, and for homeless veterans, and has been a frequent lecturer on religious responses to domestic violence and child sexual abuse. For several years she was an instructor in the Integrative and Field-Based Education Program at Union Theological Seminary in the City of New York.
Reverend Nickens' written work appears in Christianity and Culture in the City: A Postcolonial Approach, (2013) edited by Dr. Samuel Cruz, and in Sacred Shelter: 13 Stories of Homelessness and Healing, (2019) edited by Dr. Susan Greenfield.
She is a graduate of Howard University with a B.A. in Television and Film production, and earned a M.Div. from Union Theological Seminary where she received the Karen Ziegler Preaching Award.