Nurturing Generous Disciples
Generosity is…Hospitality
Hospitality is a central Christian virtue, at the heart of the life in the Spirit.  In the gospel of Matthew, Jesus says, "Come, you that are blessed by my Father, inherit the kingdom prepared for you from the foundation of the world; for I was hungry and you gave me food, I was thirsty and you gave me something to drink, I was a stranger and you welcomed me…"  Everyday opportunities arise to extend hospitality, welcome and grace to another.  When we do, we affirm the truth of the presence of Christ before us in the other.  Hospitality becomes the avenue for generosity to express itself: to welcome everyone as sacred and beloved guest; to fill another's need; to invite others to share their stories and to find themselves in God's story; to keep the door open, welcoming those who come and however they come.  Richard Gunderman wrote, "The distinctions between guest and host are porous…It is in recognizing ourselves in guests that we become good hosts.  It is in recognizing the hosts within us that we acquit ourselves as guests."  When we express our generosity through hospitality, Christ finds a welcome among us.  When we express our generosity through such a welcome, people find comfort, hope and belonging.  When we express our generosity with open arms and hands, the kingdom of God comes near.
Grace and peace to you in the journey of generosity,
Stacy Emerson, ABCUSA Stewardship Facilitator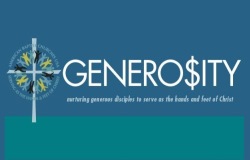 Click here to sign up
 for our free enewsletter.
Newsletter Archive