Nurturing Generous Disciples
"Now I am revealing new things to you
Things hidden and unknown to you
Created just now, this very moment.
Of these things you have heard nothing until now.
So that you cannot say, Oh yes, I knew this."
                                    ~Isaiah 48:6-7
I am often asked, do you think the church will survive? Do you think the church is dying?  Not easy questions to ask or answer, but I have a better one. What in the world is God doing? This is one of my favorite questions to ask.  When we are confused and scared and frustrated, we ask it with a tinge of sarcasm, God, what in the world are you doing?!? Other times the question is a gateway to gratitude.  Take a look at your life, your community, the world…what in the world is God doing?  Can you recognize the power and presence of God in this moment?  Look a little deeper at the things that confuse you and, using my daughter's new word, "confuddle" you—can you respond with Isaiah's truth that God is somehow doing something new in the world?  Something so unique, so creative and powerful that we have to confess we "cannot say, Oh yes, I knew this."  That is when we need the eyes of faith.  Eyes that are open to the power of God in ways we have never seen, expected, or imagined.  Try your best not to say, "But we've never done (or seen) it that way before."  Just be open.  The church will survive and thrive if we keep up with what God is doing in the world.  But the thing is, the Holy Spirit is for sure calling you into a brand new dance in this brand new day, created just now, this very moment.  Grace and peace to you in the trying to discern it and in following the Spirit's leading.
Peace to you,
Stacy Emerson, Stewardship Facilitator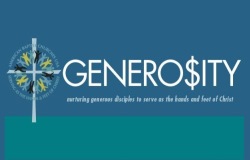 Click here to sign up
 for our free enewsletter.
Newsletter Archive