Nurturing Generous Disciples
It's almost Thanksgiving, how time flies!  Every November, I bring out this prayer—I can't remember where I found some of the phrases, but every year it reminds me to try to take a fresh perspective on gratitude…
Bountiful God, this Thanksgiving, we offer our gratitude for this life and all its blessings, for joys great and simple, and for gifts and powers more than we deserve.  For sunshine and rain, family and friends, we pour out our thanksgiving.  For the little things and the big things, we give thanks.  We give thanks for the messy house after guests have visited because it means we have friends.  We give thanks for the clothes that fit too snug because it means that we have enough to eat.  We give thanks for lawns that need raking, windows that need cleaning, and shelves that need dusting because it means we have a home.  We give you thanks, O God, and though the word seems small, may the feeling it creates be big enough to inspire us to share what we have and to work hard for a more equal world where all your people have enough to eat and reasons for joy.  Amen.
Grace and peace to you in your Thanksgiving,
Stacy Emerson, Stewardship Facilitator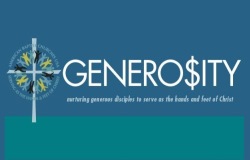 Click here to sign up
 for our free enewsletter.
Newsletter Archive