Nurturing Generous Disciples
Thank You
"The more we thank, the more we see to be thankful for. Gratitude is the lens that reveals God's incredible grace at work. It is the key to tangible, everyday joy." ~Ellen Vaughn
When I was in high school, I attended a training camp for leaders at a university in Pennsylvania. One of the speakers spoke to our group of 500 teenagers about a different way of viewing leadership called "servant leadership." That phrase has come up in ministry hundreds of times, but my first experience of it was from an older, wiser man who said the beginning of servant leadership is gratitude. He told us to be mindful of every moment, every day, every person who crossed our path and he told us that the greatest leaders say "Thank you." In every thing, big or small. It was all well and good, a great speech. But what made it stick then and now and forever for me was going into the cafeteria for lunch. There was the speaker, getting drinks for every kid, and saying, "thank you."
So to each of you who come to this page, "Thank you for all you do, and more, for who you are." May God's blessing continue to be made known in and through and around you.
Peace to you,
Stacy Emerson, ABCUSA Stewardship Facilitator
Tell us more about how your congregation talks about stewardship—what are your challenges and what do you celebrate? Fill out the Stewardship Survey here.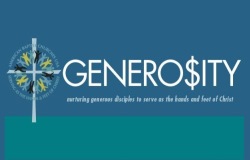 Sign-up
 for our free enewsletter.