Nurturing Generous Disciples
Generosity comes from the center…
"A spiritual life is simply a life in which all that we do comes from the center, where we are all anchored in God; a life soaked through and through by a sense of God's reality and claim, and self-given to the great movement of God's will." -Evelyn Underhill
We know that generosity is not a fleeting sentiment, not a spur of the moment kind of idea. When we nurture generosity, we realize it comes from somewhere deep, deeper than us even.  It is a blessing from God whose claim on us calls forth our generosity.  Evelyn Underhill's words speak to the essence of the lives we live and the lives we give over in God's keeping.  Such is the heart of discipleship—being anchored in God and letting everything else flow from our connection to our Source.  So the question everyday becomes, how will I connect today to the center of my being in God?  When we live deep, anchored in God, we find the eyes to see the beauty in every human being and in creation; we discover the heart we need in order to be compassionate and giving; we learn the ways of courage necessary to be agents of justice, peace, and reconciliation.  Generosity, you see, is no shallow dish—it comes from the center.
Grace and peace to you,
Stacy Emerson, ABCUSA Stewardship Facilitator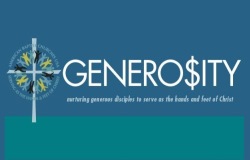 Click here to sign up
 for our free enewsletter.
Newsletter Archive