Nurturing Generous Disciples
Lent begins this month, and Lent begins in wilderness.  The gospels tell us Jesus was led into the wilderness by the Holy Spirit.  He didn't choose it.  He didn't create it.  He didn't want it.  But there it was.  A dry, barren place full of temptations and illusions and false gods.  Jesus knew there was only one way to deal with the wilderness—to go through it and see who he was on the other side.
Many people describe our current experience in the church as a place of wilderness.  Attendance is down.  Giving has decreased.  Volunteers are fewer.  It all suggests a scarcity, a dry and barren place.  Like Jesus, we didn't choose this wilderness—how we long for the golden days of the past!  Like Jesus, we didn't create it—we keep doing what we know how to do with little results.  Like Jesus, we don't want the wilderness—this challenge seems insurmountable in the face of so many obstacles, temptations, and lacking.
But like Jesus, we need to understand that the only way to deal with the wilderness is to go through it and find out who we truly are.  And, could it be the Holy Spirit is the one leading us into and through this wilderness experience?  What then does that mean?  Lent is the perfect time to consider these deep questions and Lent can help us make space for listening for the winds of the Holy Spirit.
I invite you to reflect on these questions this holy season as leaders and congregations:
What does your wilderness look and feel like?
What are your challenges?  What is tempting you to give up, to settle for less?
What is the Holy Spirit revealing to you even now—remembering that angels waited on Jesus in the wilderness—what hope is there?
How can you nurture creativity and courage for wilderness journeying?
This first step will make all the difference…
This Lent, reflect on the wilderness you know but are afraid to reveal.  Feel the Holy Spirit calling you to it, not to avoid it or cover it up or pretend it isn't there—but to deepen you and bring you to a fuller awareness of the ways God is leading you through it, so you both can see who you are on the other side.
Peace to you,
Stacy Emerson, Stewardship Facilitator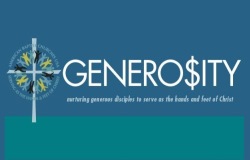 Click here to sign up
 for our free enewsletter.
Newsletter Archive