Nurturing Generous Disciples
Generosity is…
Generosity is more than material abundance.  When I think about the most generous people in my life, the words that flow include open, honest, welcoming, gentle, loving, and more.  Generosity is at the heart of discipleship—it is the evidence of our faith, the manifestation of the Spirit of God at work deep within us.  Generosity flows then naturally, organically out of us, like streams of mercy.  Generosity is remembering, in gratitude.  Generosity is having a willing spirit, in faith.  Generosity is responding, in service and care for others.  Generosity is…how would you fill in the blank?  Generosity is forgiveness.  Generosity is hope.  Generosity is kindness.  Generosity is justice.  And so much more.  May God deep a generous spirit among you, filling you with grace—enough for today and more to share.
Peace to you,
Stacy Emerson, ABCUSA Stewardship Facilitator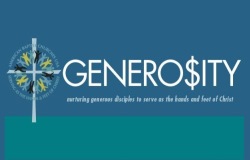 Click here to sign up
 for our free enewsletter.
Newsletter Archive