Nurturing Generous Disciples
A Heart of Gratitude
Gratitude and generosity are intertwined.  Stop for a minute and think: for what are you grateful in this moment? Gratitude is at the heart of the life of discipleship—it is our first response to our God, our Creator, Redeemer, and Sustainer, the Source of all life. A grateful heart is content with what one has rather than craving more; a grateful heart does not think it is owed anything but celebrates in the gift of each moment; a grateful heart is open to ideas, possibilities, and creativity; a grateful heart remembers God is at the center and trusts that God will always provide what is needed. As you read these words, I invite you to pause and consider all that you are grateful for. And I hope that in such meditations, you will find all the incredible ways the kingdom of God has come near.
Peace to you,
Stacy Emerson, ABCUSA Stewardship Facilitator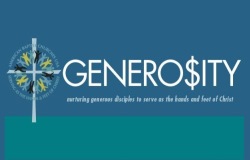 Click here to sign up
 for our free enewsletter.
Newsletter Archive