Chicago
Spotlight on Metropolitan Chicago

Mission
We are a Family of American Baptist Churches united in Jesus Christ to serve God through mission and celebration in our metropolitan setting with a global vision. 
Identity
The American Baptist Churches of Metro Chicago is a metropolitan association of diverse American Baptist congregations and ministries called by Jesus the Evangel and empowered by the Holy Spirit to be Gospel-centered in proclaiming, witnessing to, and being agent for the reign of God in the world — to be evangels, as members one of another, on behalf of the Evangel's cause: the beloved community.
Commitments
The commitments of the American Baptist Churches of Metro Chicago:
To experience continuously and understand more deeply the God of grace revealed decisively in Jesus Christ
To be nurtured and nurturing in mind and spirit for the sake of our calling and mission
To be invitational in our life together and to make mutuality a defining mark of our lives in faith, with commitments to the congregation and the region, our denomination and the church universal
To live generously and give sacrificially
To be committed unswervingly to ministries of compassion, justice, and peace.
———————————————————————————————————
Region Information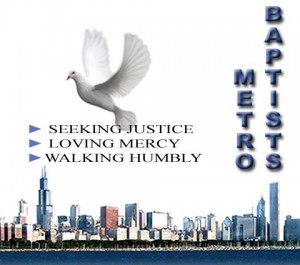 62 churches/14,903 resident members
Executive Minister: Rev. Dr. Larry L. Greenfield
In November, 2010 (the last month for which complete figures are available), the churches of the Chicago region gave $10,918 to total United Mission.
———————————————————————————————————
A Cool Summer Experience In Waukegan
"This is my best summer ever!" declared Beaver in his June 29th journal entry.  This student's selection of Beaver as his nature name was quite apropos as beavers can easily help or harm a community.  The potential for harm in Beaver's community is great.  Waukegan, Illinois faces a 50% high school drop out rate, high poverty, high crime, high rates of teen pregnancy and high gang activity.  A Cool Summer Experience (CSE), a ministry of First
Baptist Church, seeks to guide Beaver and other participants towards a path of help and hope.  The mission of CSE is to foster the well-being of children – mind, body, soul and spirit – within the context of the web of relationships among which they live out their lives.  CSE is designed to capture the intrinsic curiosity of children by getting them outdoors in nature and providing opportunities for environmental literacy, cooperative learning and healthy decision-making skills.
CSE is a nature-based, environmentally focused summer learning program. This faith-based initiative developed and s
ponsored by First Baptist Church, Waukegan is a Children in Poverty initiative of the American Baptist Home Mission Societies.  This program is sustained by a collaboration of diverse groups of public and private organizations, including ABC of Metro Chicago, a key supporter.
Entering its fourth year, CSE is now a six-week summer learning program which targets 4-5th graders living at or below the poverty level and at serious risk of academic failure.  They match outdoor experiential learning with rigorous content based on the Illinois Learning Standards and the North American Association for Environmental Education.  The CSE curriculum promotes Science, Technology, Engineering, and Mathematics (STEM)-based careers while building on the principles of environmental stewardship.  Certified teachers deliver direct instruction and community partners visit weekly to discuss topics from A (Audubon Society bird watchers) to Z (Zooplankton sampled during a water expedition).   The primary objective of CSE 2010, Exploring a Great Lake – Lake Michigan, was to create an awareness, appreciation, and understanding of the diverse ecosystems that are a part of the Lake Michigan watershed while stimulating a love of nature and encouraging a commitment to conservation.  In their exploration and discovery ventures, children experienced the awe and wonder of nature as their senses, hearts and imaginations were engaged.
As a faith-based program, CSE also sought to daily impart to children and families a sense of spirituality…of awe and wonder before the mysteries of nature…of reverence for the intrinsic beauty and sacredness found in all of life…of gratitude and thanksgiving to the Creator.  CSE views cultivating these qualities as preliminary and essential to any deep and abiding relationship with God, whose "invisible qualities, eternal power and divine nature have been clearly seen, being understood from what has been made."  (Romans 1:20)
CSE has already positively impacted the community with the implementation of comprehensive recycling and composting programs at First Baptist Church.   The children at CSE launched a water conservation program with the installation of a rain barrel at the church, and plan to add another one this summer.  CSE students participated in service learning opportunities that connected the indoor and outdoor classrooms to good citizenship.  In 2009 CSE students planted over 300 native plants in a local park and currently serve as 'ambassadors' and caretakers of a Waukegan community garden.
This summer experience has expanded to a year-round learning program, A Cool Learning Experience (CLE).  The CLE initiative offers monthly adventures including excursions in nature, healthy recreation and service learning opportunities.  CLE serves to reaffirm the mission to support families by providing a safe, nourishing atmosphere for their children year round.
AT CSE and CLE, students learn to appreciate the natural world and the roles they play as good stewards of God's creation.  These cool experiences at First Baptist are perhaps described best by Starfish's poetic reflection, "CSE is best when you put it to the test."
Highlights from A Cool Summer Experience Annual Report 2010 include:
Program expanded to serve 23 children from 20 families, 3 of whom lived in a transitional shelter
Students received nearly an entire year's worth of science in just six weeks.  Test scores reveal science and reading improvement by as much as 30%.
Students enthusiastically embraced Rethink, Reduce, Reuse and Recycle.
Entire families became involved with their child's learning.
Year-round learning began through A Cool Learning Experience.
———————————————————————————————————–
Resources
Thinking Theologically About the Common Good
By Rev. Dr. Larry Greenfield
Click Here
Local Mission Story: Urban Dolorosa
Hyde Park Union Church in Chicago is concerned for the victims of urban violence in their city.  More importantly, they are acting to address the issue.  They have taken the lead in creating Urban Dolorosa to act preemptively in Chicago.
Click Here