Event Registration
Upcoming Conferences and Events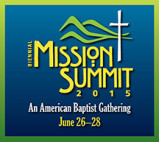 Biennial Mission Summit Individual Registration     Register Now
 June 26-28, 2015 • Overland Park, Kansas
*Note: Credit Card is needed to register online.
Download the Registration Form


Biennial Mission Summit Church/Region Sponsorship   Register Now
June 26-28, 2015 • Overland Park, Kansas
*Note: Credit Card is needed to register online.
Download Church Sponsorship Form
Download Region Sponsorship Form
Visit www.americanbaptists2015.com for more information!


McKee Consultation Meeting     
March 10-13, 2015 • Hilton Garden Inn, Atlanta Downtown
This meeting is now closed. Please contact Rhoda.Johnson@abc-usa.org with questions about this meeting.

National Leadership Council, Multi-Region Corporation, National Executive Council, Regional Executive Ministers Council, & Transformed by the Spirit Partners     Register Now
April 7-10, 2015 • Green Lake Conference Center, Green Lake, Wisconsin

ABWM National Board Meeting     Register Now
June 22-25
Meeting at: Overland Park Convention Center
Hotel Accommodation: Chase Suite Hotel
This meeting is for members of the national board of American Baptist Women's Ministries (national officers, nominees, presidents of Region/State ABWMs, consultants, and ABWM staff).
Executive Committee will meet on Monday, June 22, at 7:00pm-9:00pm.
Board Meeting begins on Tuesday, June 23 at 9:00am and ends on Thursday, June 25, at noon.

Ministers Council Events     Register Now
Board of Governors Meeting   
June 23-24, 2015 • Overland Park, KS
Ministries Team Meeting     
June 24-25, 2015 • Overland Park, KS
Ministers Council Retreat   
June 29-July 1, 2015 • Unity Village, MO