Featured

Published on February 28th, 2019 | by ABCUSA
0
Delegation Travels to Malaysia and Myanmar; Vows Not to Forget Burmese Brothers and Sisters
The story below was written by Rev. Marsha Scipio, associate general secretary for Missional Initiatives and Partnerships with American Baptist Churches USA.
In January members of the Burma Refugee Commission travelled with a delegation to Malaysia and Myanmar. The delegation was comprised of leaders within our American Baptist Churches family – Rev. Marsha Scipio, associate general secretary, Rev Leslie Turley, area director for Southeast Asia and Japan with International Ministries, and Rev. Florence Li, national coordinator of Asian Ministries with American Baptist Home Mission Societies. The group also included Regional Executive Ministers Rev. Joan Friesen, Rev. Dr. Robin Stoops, Rev. Douglas Avilesbernal and Rev. Dr. Marie Onwubuariri. United in one mission, the group embarked on an advocacy and discovery trip to understand the challenges of refugees from Burma (now Myanmar) and how American Baptists could come alongside these refugees as they continue in their struggle for peace and work towards resettlement. American Baptist Churches has a long relationship with Burma, dating back to the missionary journey of Adoniram and Ann Judson up to the present. "Today over 120 of our new churches and congregations are comprised of persons from Chin, Kachin, Karen, Karenni and other states," said the Rev. Florence Li.
The delegation spent the first three days of the trip in Malaysia. There they attended meetings with seven ethnic organizations, including the Kachin, Chin, Arakan, Karenni, Karen, Mon and Shan. These organizations are established by refugees to protect their fellow displaced persons. The informational meetings served as a platform for ethnic leaders to share their stories of government raids and subsequent arrests, the rise in trauma-related mental health issues and suicide among the refugees, abuse by employers as most of the refugees are not legally employed, under-resourced schools (refugee children cannot attend public Malaysian schools) and the need for legal advocacy. Many of the injustices the refugees are facing are perpetuated because Malaysia has not signed the United States Refugee Convention.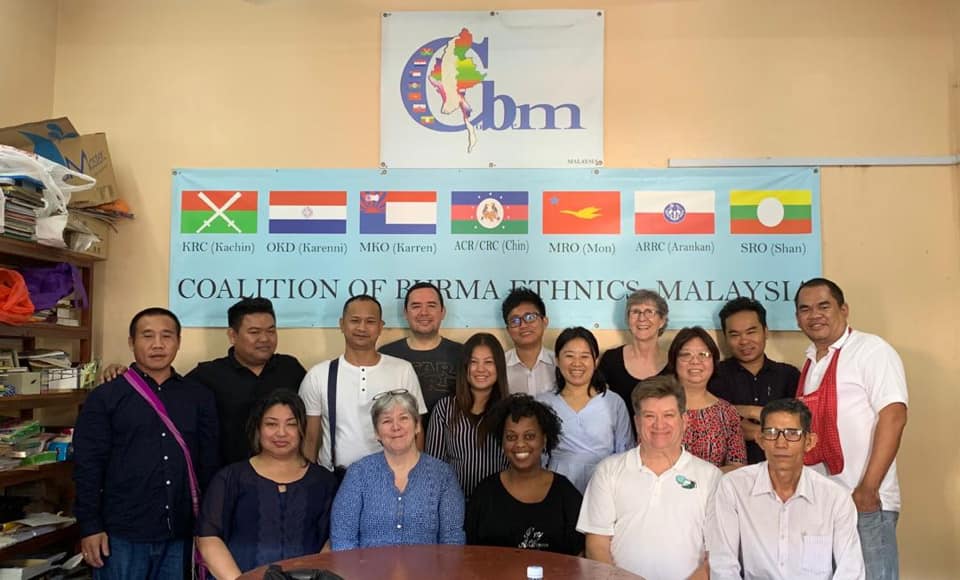 A glimmer of hope was found as the delegation met with the leaders of the Coalition of Burma Ethnics, Malaysia. This is a group of leaders, primarily millennials, of the diverse ethnic organizations who have joined together to protect the mutual interests of the various ethnic groups. The hope is in their willingness to unify, despite their cultural differences, to address the common challenges they are facing as displaced persons in Malaysia. "I was deeply moved by the embodiment of faith by these young adults, which fuels their hope and passion for justice," said Rev. Scipio.
Following their visits in Malaysia the group travelled to Myanmar where they were joined by General Secretary Emeritus, Rev. Dr. A. Roy Medley and Global Servants, Rev. Dr. Ann Borquist and Rev. Jennifer Pedzinski. This leg of the trip afforded the delegation the opportunity to explore Myanmar's readiness for resettlement of refugees living in other countries and those internally displaced persons, many of whom reside in makeshift communities, otherwise known as Internally displaced person (IDP) camps. According to recent United Nations High Commission for Refugees (UNCHR) findings, the political and military conflict is stable enough in some Myanmar states for refugees to return to their homes. Yet, the ABC delegation discovered that for many refugees or IDP's looking to return to their States, they find there are no homes to which they can return. Many villages still have land mines, internal infrastructure for basic living has been ravaged by war, employment is very scarce and opportunities for economic advancement are almost non-existent.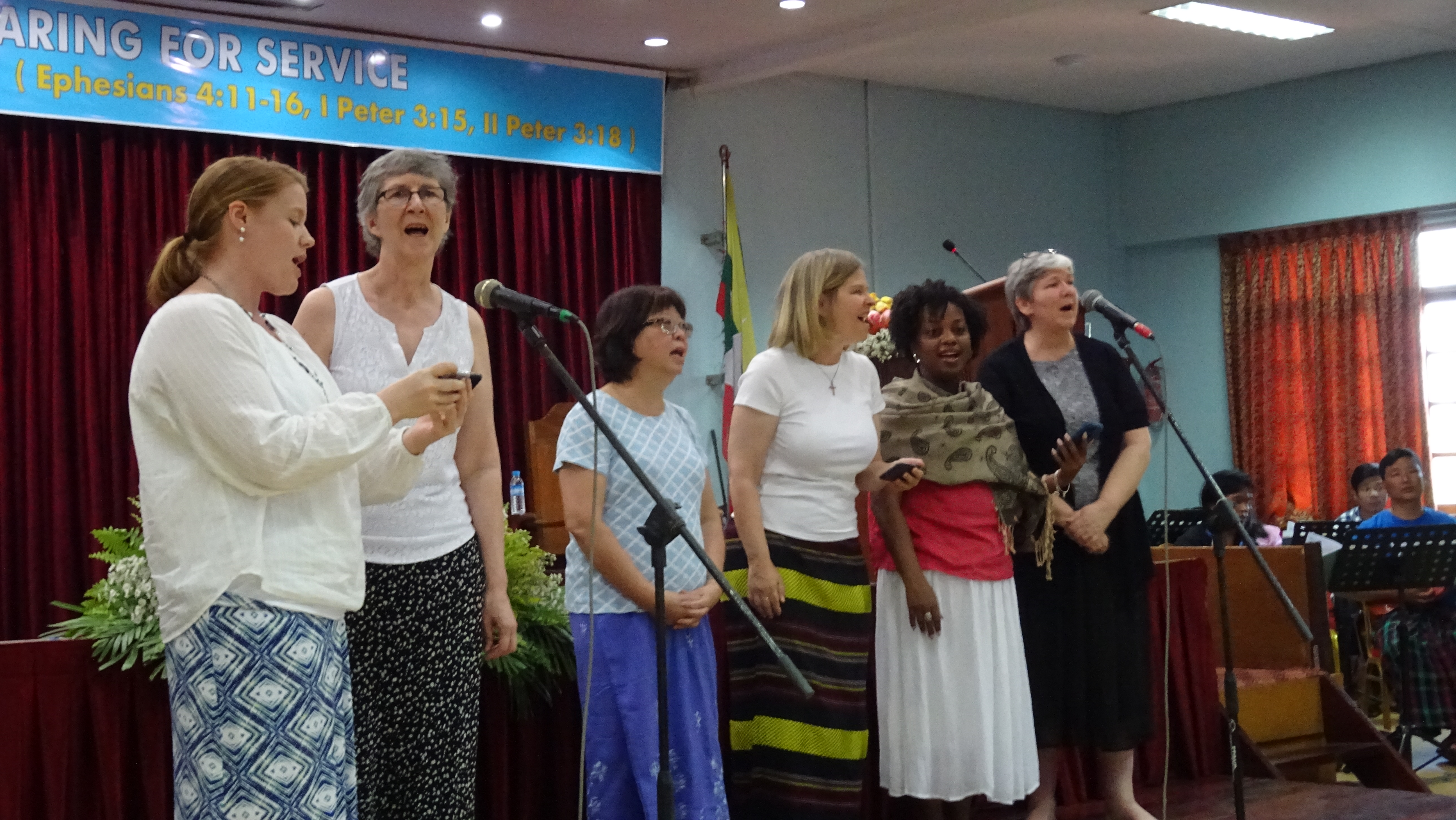 Nevertheless, there was a spirit of resilience that belied so many of the individuals and groups with whom the delegation interacted. From children in an IDP school in the Karen State where the group worshipped on Sunday morning to laughter of adults and children living under threat of military outbreak in the nearby Taungoo Village; from students leading worship at Myanmar Institute of Theology to pastors in the Myanmar Baptist Convention seeking innovative ways to address the ongoing displacement issues; from women engaged in a sewing collective becoming entrepreneurs to support their families to a young woman who assists in gathering information to provide a comprehensive understanding of the peace process and the government in Myanmar – the resilience among the refugees and displaced persons amidst grave loss and challenges was evident. "Visiting Myanmar was an eye opening experience, to walk with them as they described the impact of war and poverty was sobering. Worshiping with them, seeing their genuine passion for Christ and how it translates to caring for those around them was inspiring.  Coming home with hope for the future and a call to add my voice to theirs, empowering," said Executive Minister Stoops.
One lingering message from the various encounters on the trip was, "Don't forget about us!" As American Baptists we vow not to forget our Burmese brothers and sisters. The Board of General Ministries established the Burma Refugee Taskforce in the Spring of 2007. Since then, the Task Force has taken advocacy trips with leaders of the ethnic groups and met with our elected officials and ambassadors in Washington, D.C., Malaysia, Thailand and Myanmar. "With Commission members representing the leadership of ABC including the Burma Diaspora living in the US, the Burma Refugee Taskforce has been very active in focusing on issues and advocating for the Myanmar community; here in the US and abroad. This is such a wonderful example of the power in unity as all work together for the good of God's kingdom," reflected Rev. Turley. Executive Ministers provide support for Burma Diaspora congregations when they establish communities in their regions. "Our regional life is enhanced as we welcome these brothers and sisters into our mutual mission and ministry.  Judson's work has come around full circle and ABC now benefits from our new partnerships in the U.S.," said Executive Minister Friesen. Our ABC family will continue to work together to seek justice for our Burmese brothers and sisters, here and abroad.
The work of the Burma Refugee Taskforce is supported in part by gifts to United Mission.